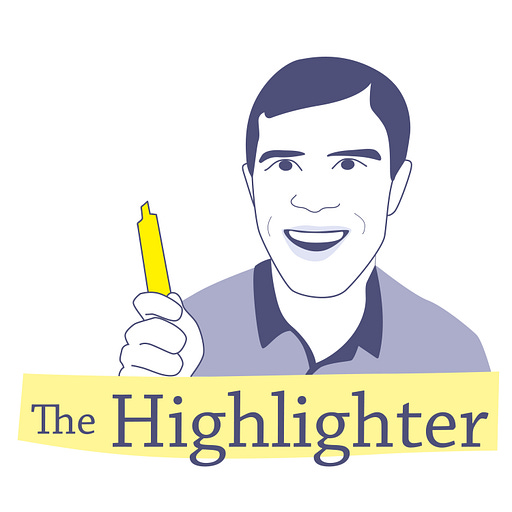 Nov 1, 2021 • 4M
It's November! Let's read and discuss "My Father Vanished When I Was 7. The Mystery Made Me Who I Am." by Nicholas Casey
Please sign up for our discussion on Sunday, November 21
Why are there so many book clubs and so few article clubs? Let's change that! Join The Highlighter Article Club, where we read, annotate, and discuss one outstanding article every month on race, education, or culture.
Welcome to November! I'm excited to announce that it's our first-ever Readers' Choice Month. This month, we'll be reading and discussing "My Father Vanished When I Was 7. The Mystery Made Me Who I Am." by Nicholas Casey. Thank you to everyone who nominated an article, and congratulations to Lauri for being the winner!
Originally published in The New York Times Magazine in June, the piece chronicles Mr. Casey's long search for his father and explores issues of identity and connection. Where do we come from? What makes us the way we are?
Here's an excerpt from the piece:
I spent much of my life imagining who I was — and then becoming that person — through vague clues about who my father was. Part of me still likes to believe we each determine who we are by the decisions we make and the lives we choose to live. But what if we don't? Now I often wonder whether this long journey that has led me to so many corners of the world wasn't because I was searching for him, but because I am him.
Nicholas Casey is the Madrid bureau chief at The New York Times, covering Spain, Portugal and Morocco. Over the last decade he was stationed in Colombia, Venezuela, Israel, Mexico, and the United States, where he covered the 2020 election. In 2016, he won the George Polk for his work in Venezuela. Mr. Casey's reporting has also won the New York Press Club Award, the Clarion Award, and honorable mention from the Society of Publishers in Asia.
I hope you'll join me and fellow Article Clubbers in discussing this article on Sunday, November 21, 2:00 - 3:30 pm PT! This event will be on Zoom and be limited to 24 participants.
Are you IN? I hope so. If so, here's what to do:
Leave a comment below. Say hi and share why you're interested in this month's article.

Start reading the article. Here's the original, and here's a shared version we can annotate together.
Coming up this month at Article Club
This week: We'll sign up for the discussion and start reading the article.

Next week: We'll annotate the article with fellow Article Clubbers.

The week of November 15: We'll listen to an interview with Mr. Casey.

Sunday, November 21: We'll discuss the article with fellow Article Clubbers.
Are you new to Article Club? If so, welcome! We look forward to meeting you and having your voice in the conversation. Feel free to reach out with questions: mark@highlighter.cc.
---
Article Club is a community of thoughtful people who read, annotate, and discuss one great article every month on race, education, or culture. Everyone is welcome. The author participates, too. Article Club is part of The Highlighter, a weekly newsletter featuring the best articles on race, education, and culture.