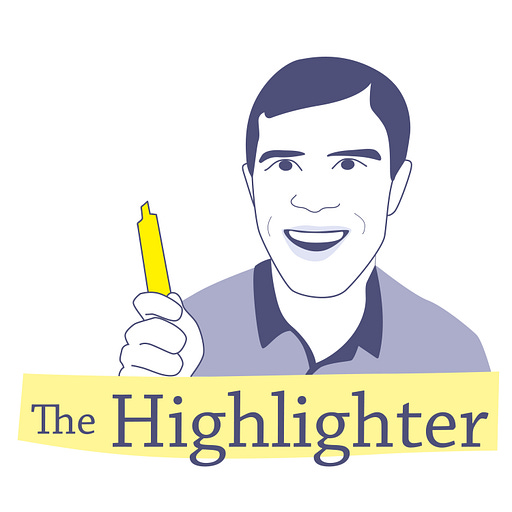 Nov 15, 2020 • 57M
A conversation with Hafizah Geter, author of "Theater of Forgiveness"
Why are there so many book clubs and so few article clubs? Let's change that! Join The Highlighter Article Club, where we read, annotate, and discuss one outstanding article every month on race, education, or culture.
Hi there, Article Clubbers! This month, we're reading and discussing "Theater of Forgiveness," by Hafizah Geter, poet and author of Un-American. The article explores the intergenerational rage that emerges from our society's expectation that Black people forgive the atrocities that white people commit.
Last week, my friend and colleague Sarai Bordeaux and I got the chance to talk with Ms. Geter and ask her some of our questions. I hope you will take a listen!
Most of all, I want to appreciate Ms. Geter for generously sharing her time and thoughtfulness with us. Also, thank you, Sarai, for facilitating the conversation.
Here are just a few of my favorite moments:
"I'm writing about and for Black and African people. How do we understand the narrative of ourselves in this place, when the narrative that has been written in the mass culture is one that is so dangerous, so toxic, and so deeply untrue?"
"To be Black, you're constantly on the stage, constantly having to perform a certain type of acceptability to be safe, and even then, you can't even bird watch. How do you find your life again when you've lived in the performance the entire time?"
"I would argue that Black happiness is what makes us so dangerous."
"Reading is the most important thing. People always say, Reading is a solitary activity, which I don't understand. The first time you experience a book, someone is reading to you, so you can never ever be alone again. I think it's so deeply important that people are reading the work of Black scholars, but especially Black trans activists, and disability justice activists, because the work has been done, and so much of what we do has just been reinventing the wheel. The more activists that I have read, it helps me remember my own life from outside of a white gaze."
After listening to the interview, feel free to share your thoughts in the comments. Did anything surprise you or change your ideas about the article?
Want to join next week's discussion? We're meeting Sunday, Nov. 22, 2-3 pm PT via Zoom. Read this for more information, then feel free to sign up!
Article Club is a newish experiment in community reading. We read and discuss one outstanding article or book chapter every month. We invite the author to join our conversation, too. If you're interested, sign up and check us out! Article Club is part of The Highlighter, a weekly newsletter featuring the best articles on race, education, and culture.