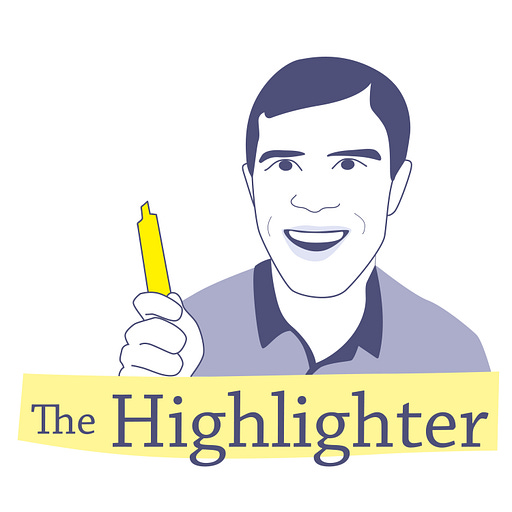 Feb 9, 2020 • 3M
Paul Tough, Week 2: Let's share our first impressions of "Getting an A," plus our questions and the topics we want to explore
Why are there so many book clubs and so few article clubs? Let's change that! Join The Highlighter Article Club, where we read, annotate, and discuss one outstanding article every month on race, education, or culture.
Hi there, Article Clubbers, and welcome to the many new members who joined this week. It's great to see how quickly we're growing. This month, we're discussing Paul Tough's "Getting an A," a chapter from his outstanding book, The Years That Matter Most: How College Makes or Breaks Us.
Last week, we read (and some of us vigorously annotated) the chapter. This week, we'll begin our discussion by sharing our first impressions, questions, and topics we want to explore. If we have questions for Mr. Tough, we'll include those, too.
If you're new to Article Club: I'm happy you're here! In the comments, say hi and introduce yourself. Then I'll email you the chapter so you can join the discussion.
---
OK, it's time to discuss!
What were your first impressions of "Getting an A"?

What questions do you have — for the group or for Mr. Tough?

What topics do you want us to explore more?
In the comments, say hi and share your thoughts. Remember, there's no need to be smart here: Just go for it. Enjoy getting to know your fellow Article Club friends, reply to one another's ideas, and build off one another. Most of all, have fun!
---
Coming up this month
Next Sunday, Feb. 16: Mr. Tough will answer our questions as part of a podcast episode. We'll reflect on what he says and deepen our conversation.

Sunday, Feb. 23: We'll convene in person (1-2:30 pm in Oakland) or online (4-5 pm PT via Zoom) to discuss "Getting an A" in depth.
---
One last thing: I want to thank Mr. Tough for getting the word out and encouraging his followers to join Article Club. I look forward to asking you our questions soon!
---
Article Club is a new experiment in community reading. We read and discuss one outstanding article or book chapter a month, both online and in person. We invite the author to join our conversation, too. If you're interested, please sign up and check us out! Article Club is part of The Highlighter, a weekly newsletter featuring the best articles on race, education, and culture.