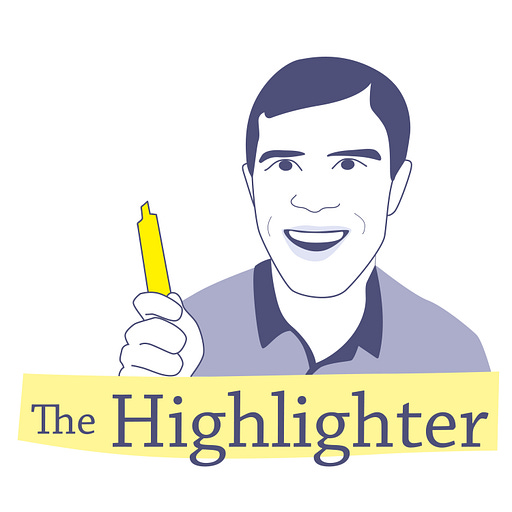 Sep 28, 2021 • 5M
Let's reflect: "How to Name Your Black Son in a Racist Country," by Tyrone Fleurizard
Also: How can we make our reading community even better?
Why are there so many book clubs and so few article clubs? Let's change that! Join The Highlighter Article Club, where we read, annotate, and discuss one outstanding article every month on race, education, or culture.
Our 20th Article Club discussion is in the books! We read and annotated Tyrone Fleurizard's "How to Name Your Black Son in a Racist Country" and participated in three thoughtful conversations. Thank you!
Thank you to Summer, Peter, Jennifer, Elise, Molly, Lauri, Shreya, Wes, Sarai, Telannia, Daniel, Philippe, Tamyra, Susan, Abde, and David for joining the discussion. I'm very grateful.
Also, I deeply appreciate Summer, Elise, and Sarai for facilitating groups. Also, a big welcome to Susan, David, and Abde. Hope you felt comfortable and had a good time!
Reflections and celebrations are open:
What did you take away from the discussion?
What did you appreciate?
How can we make things even better next time?
Here are a few of my reflections and questions. (Feel free to share your thoughts!)
Every discussion is unique. But should there be some commonalities in flow? What makes an Article Club discussion special?

Discussion groups matter, too. Should groupings be random, or should you get to choose them? What are the benefits of affinity spaces vs. mixed groups?

Article Club is better when everyone who signs up shows up. What are ways that I can encourage new and existing participants to the conversation?
See you next week! That's when I'll reveal October's article. If you want to plan ahead, our discussion will be on Sunday, October 24, 2:00 - 3:30 pm PT. The author plans to join us, too.
And if you like Article Club, please share it with a friend!
---
Article Club is a thoughtful reading community and an experiment in community reading. Every month, we read, annotate, and discuss one great article, and the author participates, too! If you're interested, sign up and check us out. Article Club is part of The Highlighter, a weekly newsletter featuring the best articles on race, education, and culture.