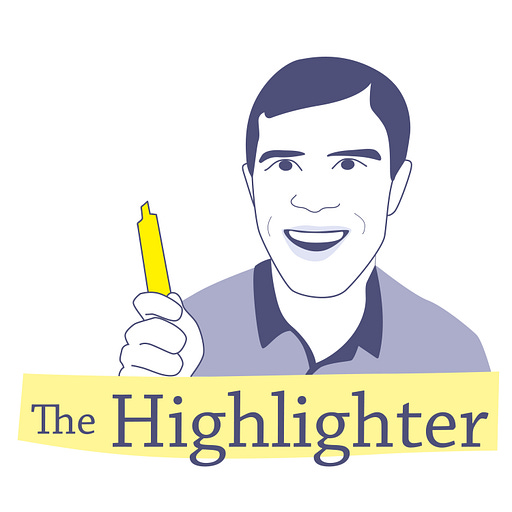 Feb 3, 2022 • 2M
It's February! Let's read and discuss "When Things Go Missing," by Kathryn Schulz
This article inspired me to start AC! Sign up for our discussion on Sunday, February 27.
Why are there so many book clubs and so few article clubs? Let's change that! Join The Highlighter Article Club, where we read, annotate, and discuss one outstanding article every month on race, education, or culture.
Hi Article Clubbers! Welcome to February.
Before revealing this month's article, I would like to express my gratitude to Sara, Abde, Jennifer, Bonnie, Elise, Marcus, Summer, Toronzo, and Peter for our discussion last Sunday of "Good Mother." Special thanks go to Sara — for joining Article Club for the very first time! — and to Sierra Crane Murdoch, for your beautiful article.
I'm pleased to announce that this month, we'll be reading "When Things Go Missing," by Kathryn Schulz. Originally published in The New Yorker in 2017, and featured in The Highlighter as the best article of the year, the piece inspired me to make Article Club a reality. In fact, back in January 2018, eight of you joined me in Oakland to discuss the article at "Choc Talk," the very-first rendition of AC. (We've come a long way!)
Here's the blurb I wrote about the piece for The Highlighter:
Kathryn Schulz begins this astounding piece with anecdotes about losing things – her keys, her wallet, her car. Then Ms. Schulz turns to the loss of her father, who died last year. Her writing is exquisite, and her thesis – that living is losing – will bring you pause, even if reading about death is something you'd rather not do.
Since then: The essay became a book! Lost & Found, published last month by Random House, is a beautifully written memoir that expands on themes from the original essay – for example: that losing is inevitable, while finding is truly astonishing.
Ms. Schulz joined The New Yorker as a staff writer in 2015. In 2016, she won the Pulitzer Prize for feature writing and a National Magazine Award for "The Really Big One," her story on seismic risk in the Pacific Northwest. Previously, she was the book critic for New York, the editor of the environmental magazine Grist, and a reporter and editor at the Santiago Times. She is the author of "Being Wrong: Adventures in the Margin of Error" and "Lost & Found."
I hope you'll join me and fellow Article Clubbers in discussing the piece on Sunday, February 27, 2:00 - 3:30 pm PT! This event will be on Zoom and will be limited to 24 participants.
Are you IN
?
I hope so! If so, here's what to do:
Announce the good news by leaving a comment below.
In a sentence or two, say hi and share why you're interested.

Sign up for the discussion by clicking here.
This will save your spot and tell me you're committed to joining.

Start reading the article.
Here's the original, and here's a shared version we can annotate together.
Coming up this month at Article Club
This week: We'll sign up for the discussion and start reading the article.

Next week: We'll annotate the article and share our first impressions.

The week of February 14: We'll listen to an interview with Ms. Schulz.

The week of February 21: There will be a surprise.

Sunday, February 27: We'll discuss the article with fellow Article Clubbers. Plus, I'll raffle off a copy of Lost & Found.
Are you new to Article Club? If so, welcome! We look forward to meeting you and having your voice in the conversation. Feel free to reach out with questions: mark@highlighter.cc.