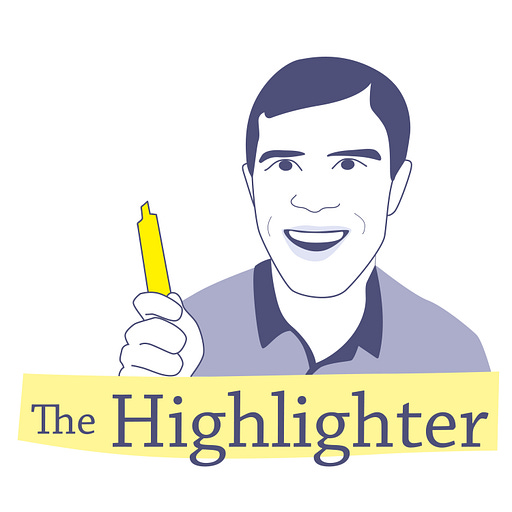 Feb 9, 2021 • 32M
It's February! Let's read and discuss "How the Black Vote Became a Monolith," by Theodore R. Johnson
Why are there so many book clubs and so few article clubs? Let's change that! Join The Highlighter Article Club, where we read, annotate, and discuss one outstanding article every month on race, education, or culture.
Welcome to February! I'm excited to announce that this month's article is "How the Black Vote Became a Monolith," by Theodore R. Johnson. It is a powerful piece worthy of our deep reading, reflection, and conversation.
Published in The New York Times Magazine last September, the article explores the history of the Black electorate in the United States and challenges simplistic conclusions about prevailing voting patterns. Here's my original blurb:
Black people vote overwhelmingly for Democrats, but that doesn't mean they're all liberal (far from) or that trends can't change (they have before). In this well-written article, Theodore R. Johnson explains how Reconstruction, the Great Migration, the Voting Rights Act, and the Southern strategy contributed to what appears to be Black people's monolithic voting patterns. "Why do a vast majority of Black Americans, despite our diverse politics, vote the same?" Dr. Johnson asks. "Because our rights are always on the ballot." (21 min)
Dr. Johnson is senior fellow at the Brennan Center for Justice. He investigates how race influences electoral politics and has written articles for The Washington Post, The Wall Street Journal, and The New York Times Magazine. His most recent piece was "Raphael Warnock and the Solitude of the Black Senator," published last month.
I hope you'll join me and fellow Article Clubbers in discussing this article! Our discussion will be on Sunday, Feb. 28, 2:00 - 3:15 pm PT, via Zoom.
Are you IN? I hope so. If so, here's what to do:
Sign up by leaving a comment. Say hi, announce that you're IN, and share with other Article Clubbers what drew you to join this month's discussion.

Read and annotate the article. (Here's the original if you prefer it.)

Optional: Listen to the article! (This is a new feature! More details below.)
One more (very important) thing: I have a surprise for you! For the first time ever, you can also listen to the article. My friend and fellow Article Clubber Jennifer has generously read this month's article for your listening pleasure. (She could make it big in the voice over industry.) It's available in today's podcast episode. You can click the play button above or click the link "listen in podcast app." Hope you like it!
Coming up this month at Article Club
Monday 2/15: We'll listen to Dr. Johnson talk about his article.

Monday 2/22: We'll share questions and topics we want to explore.

Sunday 2/28: We'll discuss the article with fellow Article Clubbers.
Questions? Share them in the comments or email me at mark@highlighter.cc.
---
Article Club is an experiment in community reading in its second year. We read, annotate, and discuss one outstanding article or book chapter a month. We invite the author to join our conversation, too. If you're interested, sign up and check us out! Article Club is part of The Highlighter, a weekly newsletter featuring the best articles on race, education, and culture.