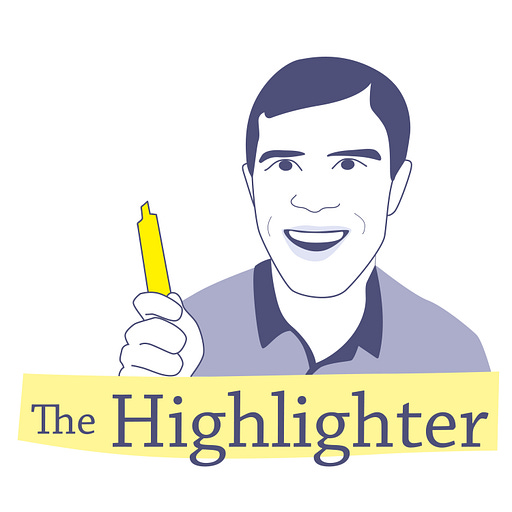 Aug 1, 2021 • 5M
It's August! Let's read and discuss "The Stories I Haven't Been Told," by Jamie Figueroa
Identity, trauma, memory, story, and the power of writing
Why are there so many book clubs and so few article clubs? Let's change that! Join The Highlighter Article Club, where we read, annotate, and discuss one outstanding article every month on race, education, or culture.
Welcome to August! I'm excited to announce that this month's article is "The Stories I Haven't Been Told," by Jamie Figueroa. You're going to appreciate this article, because of its beautiful language, direct authenticity, and deep themes.
Here's my blurb of the piece, which I featured in Issue #286 of The Highlighter:
Jamie Figueroa fills up cheap spiral-bound notebooks with words to explore where she comes from, who she is, and why she's here. In this complex, powerful essay, Ms. Figueroa organizes those thoughts into a gripping narrative that reveals what she knows (and doesn't know) about her Puerto Rican family's history. Her process reveals deep truths about generational trauma, the effects of assimilation, the legacy of family, the shape-shifting of memory, and the power of writing.

Ms. Figueroa writes, "I come from women who were held down. Women who left their children and took in others. I come from women who fought back, who wielded knives, who shot guns. Wounded, wounding. Healed, healing. I come from Taíno women and Yoruba women. Black-skinned and brown-skinned women. I come from women who can lie so good, they can convince even themselves. Women who were remade, unrecognizable. Women who have started over too many times to count. I come from women who were deterred from their own wild knowing. Women who survived." (27 min)
Ms. Figueroa is Boricua (Afro-Taíno) by way of Ohio and long-time resident of northern New Mexico. Her writing has appeared in McSweeney's, American Short Fiction, Agni and Emergence Magazine among other journals. Jamie received her MFA in Creative Writing from The Institute of American Indian Arts where she is now an assistant professor. Recipient of the Truman Capote award, and the Jack Kent Cooke Graduate Arts award, she was also chosen as a Bread Loaf, Rona Jaffe Scholar, and is a VONA alum. Brother, Sister, Mother, Explorer (Catapult) is her debut novel. 
I hope you'll join me and fellow Article Clubbers in discussing this article on Sunday, August 22, 2:00 - 3:15 pm PT! This event will be on Zoom, open to the public, and limited to 28 participants.
Are you IN? I hope so. If so, here's what to do:
Sign up for the discussion.

Leave a comment here. Click the button below, say hi, and share what drew you in.

Start reading! Highly encouraged: Let's annotate this copy of the article together.
Coming up this month at Article Club
This week: We'll sign up for the discussion and start reading the article.

Next week: We'll annotate the article with fellow Article Clubbers.

The week of August 16 : We'll listen to an interview with Ms. Figueroa.

Sunday, August 22: We'll discuss the article with fellow Article Clubbers.
Are you new to Article Club? If so, welcome! We look forward to meeting you and having your voice in the conversation. Feel free to reach out with questions: mark@highlighter.cc.
---
Article Club is a community of thoughtful people who read, annotate, and discuss one great article every month on race, education, or culture. Everyone is welcome. The author participates, too. Article Club is part of The Highlighter, a weekly newsletter featuring the best articles on race, education, and culture.