Iserotope Extras - Issue #53

Welcome to August: the tail end of summer, the start of a new school year, and most important, my birthday month! In this week's issue, read about drug addiction, the racist history of Portland, the allure of Donald Trump among poor white people, and the ways that newspapers are trying to keep from going bankrupt. Hope you like it!
'How's Amanda?' A story of truth, lies and an American addiction
Amanda is 31 and is trying to get off heroin. She lives at home with her mom and stepdad, and she is trying to stay clean for two weeks in preparation for her first shot of naltrexone, a new treatment that blocks the effects of opiates on the brain. This article, brilliantly reported and well written, takes you through those last few days before Amanda can gain a chance at hope.
The Racist History of Portland, the Whitest City in America
Portland is a WPP — a white person's paradise, filled with well-meaning white progressives who hang out on sidewalks, calling for the protection of the Indonesian rain forest (true story), among other things. This article tells a different story of Portland, one that is not welcoming to people of color, particularly African Americans. My first thought: Hmm, this sounds like San Francisco.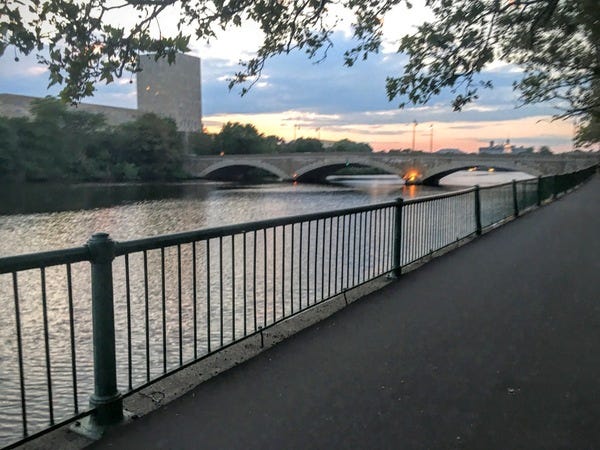 The Charles River, Cambridge. Photo by Extras subscriber Jacqueline.
Trump: Tribune Of Poor White People
This interview with J.D. Vance, author of Hillbilly Elegy, which I hope to read soon, does a great job explaining why poor, non-college-educated white people like Donald Trump. Remember when President Obama made his comment about people clinging to guns and religion? Yep, same people. They're tired of being jobless, of feeling desperate, of suffering from drug addiction. Most of all, they're tired of snobby elite urbanites with their noses in the air.
www.theamericanconservative.com
The New York Times is trying to narrow the distance between reporters and analytics data
We know that journalism is at a crossroads, so I'm particularly happy that The New York Times is leading the way to ensure its continued existence. Stela is the newspaper's analytics dashboard that helps writers and editors find out how readers are responding to articles. A few key tips: (1) Headlines really do matter, (2) The vast majority of news reading is now done on phones, (3) People like breaking stories even though they say they don't.
My experiment over at Google Spaces didn't go so well (thanks for trying!), so check out the Iserotope page on Facebook, especially if you want to share your thoughts about any of the articles in this issue. Also, be ready for next Thursday at 9:10 am for another Extras! Have a great week.
Don't miss out on the other issues by Mark Isero
Become a member for $3 per month
You can manage your subscription here.
In order to unsubscribe, click here.
If you were forwarded this newsletter and you like it, you can subscribe here.
Created with Revue by Twitter.