Iserotope Extras - Issue #51

This week, you won't find anything about Melania Trump, though I do like following plagiarists. Instead, enjoy articles on the ills of gentrification, the history of the N.R.A., the joys of decluttering, and the power of public libraries. Hope you make it through both national conventions!
White people never think they're responsible for gentrification. A woman who lived in The Mission in her 20s decides to move back with her techie boyfriend 10 years later. This leads to tons of introspection, rationalization, and defensiveness. One thing is for sure, though: She is infatuated with her boyfriend. (This makes everything else all right.)
The Civil War that Could Doom the N.R.A.
This is a great (though slightly biased) article that clearly explains the history of the National Rifle Association (that is to say, it wasn't always as crazy as it is now). The piece also suggests that the N.R.A. is not as strong as we may think — that there are internal divisions that jeopardize its clout. Also interesting: There are gun-rights organizations that say that the current N.R.A. doesn't go far enough. Wow.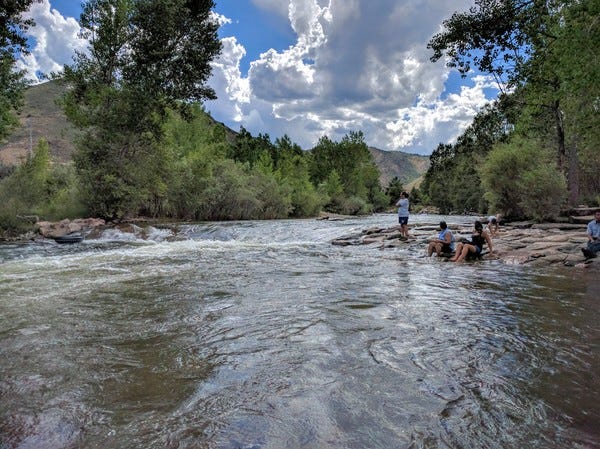 The cool waters of Clear Creek in Golden, Colorado. Thanks for the visit, Fifi!
Marie Kondo and the Ruthless War on Stuff
Americans amass way too much stuff. To the rescue is Marie Kondo, author of The Life-Changing Magic of Tidying Up. Ms. Kondo is everywhere right now, and her method — holding items we own in our hands, asking each whether it sparks joy, and tossing it if the answer is no — is revered by some and spurned by others. This profile explores the xenophobia of white American professional organizers who say that Ms. Kondo's system doesn't work for this country.
The public is being attacked. Our public schools are deemed inferior. Our police departments are deemed corrupt. Our public transportation is deemed broken. There is some good news, though: Public libraries are experiencing a renaissance. Please enjoy these 11 2-minute feel-good videos of award-worthy libraries in New York City. My favorites: Arverne Library and Glen Oaks Library.
You have made it all the way through Issue #51. Good work, you! As always, please let me know your thoughts. I'll see you back here next Thursday at 9:10 am. Have a great week!
Don't miss out on the other issues by Mark Isero
Become a member for $3 per month
You can manage your subscription here.
In order to unsubscribe, click here.
If you were forwarded this newsletter and you like it, you can subscribe here.
Created with Revue by Twitter.