Iserotope Extras - Issue #46

Sunday morning's attack on gay people in Orlando has left me stuck. Most people don't seem to want to talk about it. Maybe this is because we're grieving, or we're numb, or we don't know what to say. Very little good writing has emerged so far. This week's first piece, "The Courage of Being Queer," is a good start. Also highlighted this week is Nikole Hannah-Jones's latest piece on school re-segregation. It's excellent. After a photo of a soccer field, consider how our identity is changing as we outsource our memories to electronic devices, then try to take in, if you can stomach it, yet another story of police brutality and gun violence.
My boyfriend Peter found this quiet and thoughtful piece about being gay, about being out, about living our lives fully as we are. The 49 people who were killed in Orlando on Sunday morning were mostly young and mostly Latino. Pulse was a safe space to be themselves. Unlike the victims, my race, my age, and where I live offer me tons of safety. This is not the case, however, for many people in many places across our country.
Choosing a School for My Daughter in a Segregated City
Sixty years after Brown v. Board, our country has abandoned the fight to integrate our schools. We no longer have the will to do what is morally and legally right. Nikole Hannah-Jones has reportedly extensively (here, here, and here) on re-segregation, and in this latest piece, she turns her attention to New York City and to the question she needs to answer: Where should I send my daughter to school?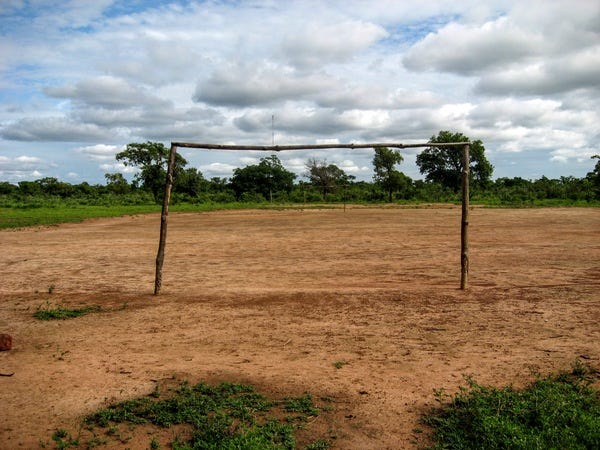 A soccer field in Kongolikoro, Mali.
"For thousands of years," Sophie McBain writes, "human beings have relied on stone tablets, scrolls, books or Post-it notes to remember things that their minds cannot retain, but there is something profoundly different about the way we remember and forget in the internet age. It is not only our memory of facts that is changing. Our episodic memory, the mind's ability to relive past experiences – the surprising sting of an old humiliation revisited, the thrill and discomfort of a first kiss, those seemingly endless childhood summers – is affected, too."
Tased in the Chest for 23 Seconds, Dead for 8 Minutes, Now Facing a Lifetime of Recovery
A police officer tased a young man in the chest for 23 seconds, causing cardiac arrest, leading to severe brain damage and a coma. This article is about police brutality, poor training, and the negligence of Taser International. (This story is also about how white people still get a better shot at justice than people of color.)
Thank you, loyal subscribers, for reading this 46th edition of Iserotope Extras. Please feel free to send it along to a friend or to email me with your thoughts. See you next Thursday at 9:10 am!
Don't miss out on the other issues by Mark Isero
Become a member for $3 per month
You can manage your subscription here.
In order to unsubscribe, click here.
If you were forwarded this newsletter and you like it, you can subscribe here.
Created with Revue by Twitter.