Iserotope Extras - Issue #44

Thank you, loyal subscribers, for your kind words about last week's issue (my favorite so far). Iserotope Extras is beginning to hit its stride! This week promises more great articles. The first one, about today's college students, will put you through the wringer. (So many emotions.) If you manage to come out the other side, you'll be rewarded with pieces on the life of a hyperconnected teenager, the inexorable truth that free will is a fraud, and the impending doom of the national spelling bee. Please enjoy!
This is a masterful article on our current generation of college students. Nathan Heller writes about trigger warnings, allyship, intersectionality, and student unrest at Oberlin College and elsewhere. This piece brilliantly continues the conversation that The Atlantic Monthly started in "The Coddling of the American Mind" (previously in Extras). It's a piece that will grab you, bother you, and make you want to talk to someone. (Continue the conversation on the Iserotope FB page!)
This is what it's like to grow up in the age of likes, lols and longing
Katherine is 13. This is the story of a teenager who has an iPhone, an au pair, and hundreds of followers on Instagram and Snapchat. Instead of rolling her eyes when her dad suggests breakfast or a jacket to stay warm, Katherine just keeps looking at her phone. But tbh, if you read closely, there's more here than a typical spoiled white teenage girl.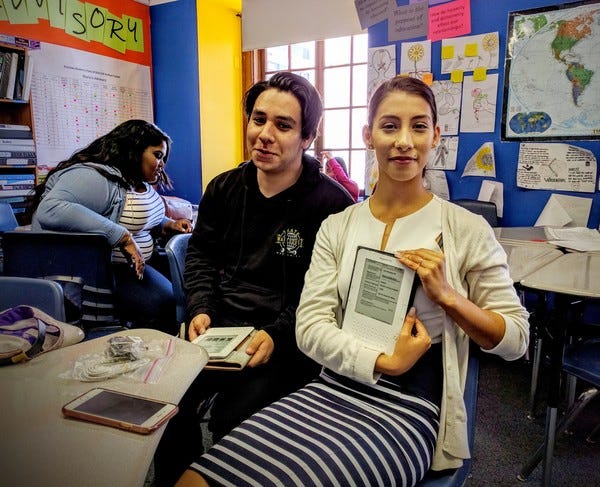 Two graduating seniors at Envision Academy in Oakland got Kindles to keep last week.
There's No Such Thing as Free Will
More and more scientists believe that humans do not have free will, that our brains begin performing an action before we have decided to do it. But what will happen to our society if "determinism" takes hold? Very bad things, it turns out. That's why it's better to believe in free will, or if you don't, in "illusionism," or the belief in free will, even when free will isn't true. (If you read this article, be prepared to have an existential crisis.)
American kids are getting too smart for the Spelling Bee
I'm an above-average speller, to go along with my real skill in life (typing). (I have a friend and former colleague who was a spelling bee champion.) This year, the Scripps National Spelling Bee had its youngest contestant ever: 6-year-old Akash Vukoti. Check out the video that accompanies this article for a primer on how to pronounce "bondon" correctly.
Iserotope Extras #44 is done! Email me with your thoughts about this issue, or forward this digest to a friend to encourage them to become a subscriber. Have a great week!
Don't miss out on the other issues by Mark Isero
Become a member for $3 per month
You can manage your subscription here.
In order to unsubscribe, click here.
If you were forwarded this newsletter and you like it, you can subscribe here.
Created with Revue by Twitter.