Iserotope Extras - Issue #41

Hi! It's Mark from Iserotope Extras. Have you enjoyed your week? I hope so. The topics are serious this week: miscarriage, sexual abuse, the achievement gap, and book eradication. But all the articles are well-written and worthy of your time. Please check out at least one of the pieces and let me know what you think! (We still need a subscribers' forum.)
What I Gained from Having a Miscarriage
The author writes, "When it comes to pregnancy loss, there is no script to follow. To help a woman navigate it, you don't need to offer advice or perspective. It is enough to show up, however awkwardly, and be there. To listen."
Sexual abuse at New England boarding schools
The Spotlight Team at the Boston Globe (not the Mark Ruffalo movie version) is back at it again with another well-researched, disturbing special report. This time, the team focuses on sexual abuse by educators at New English private boarding schools. The investigation includes 200 victims and more than 90 legal claims. It's terrible.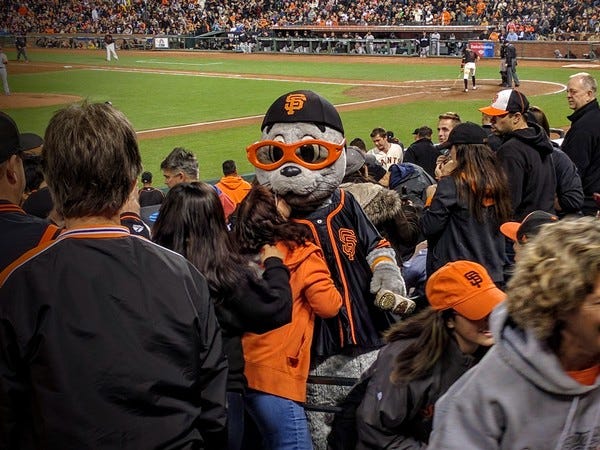 Giants mascot Lou Seal pays my mom and me a visit at the game.
Money, Race and Success: How Your School District Compares
This one came out last week, and no doubt many of you have seen it, but it's still a punch in the gut. Educators everywhere are not surprised by this data — that 6th graders in the richest school districts are four grade levels ahead of children in the poorest districts — but it still hurts. Nevertheless, rather than giving up and calling the problem hopeless and intractable, teachers wake up every day and stay close to students and the work.
Weeding the Worst Library Books
A little-known secret is that it's typical practice for librarians everywhere to get rid of books. It happens all the time. Libraries can't thrive with old, crusty books taking up space on the shelves. This article recounts the recent Berkeley brouhaha the led to the library director's resignation, plus it includes excerpts from the blog Awful Library Books, which calls attention to old texts of questionable value.
And that's it for this edition! Thank you again for opening Iserotope Extras, for reading the blurbs, and for reading one or more of the articles. If you have an article that you'd like to see here, please let me know! See you next Thursday!
Don't miss out on the other issues by Mark Isero
Become a member for $3 per month
You can manage your subscription here.
In order to unsubscribe, click here.
If you were forwarded this newsletter and you like it, you can subscribe here.
Created with Revue by Twitter.