Iserotope Extras - Issue #26
This week: one article about voting rights, two about education, and one about the minimum wage. I'm starting to read everything I can about voting rights, and this week's piece about Jeb Bush doesn't disappoint. (State laws that prohibit ex-felons from voting — forever — are unconscionable.) Please enjoy all four articles and the Kindle break in the middle!
How Jeb Bush Enlisted in Florida's War on Black Voters
Florida is one of three states that permanently bars ex-felons from voting. This affects 1.5 million Floridians and 20% of the state's African American voting population. The only way to get your vote back is to plead for clemency from the governor. Apparently, former governor Jeb Bush enjoyed this paternalistic role.
While High-School Graduation Rates Are Increasing, College Enrollment Is in Decline
President Obama touted rising high school graduation rates in his State of the Union address. But less than half of low-income high school graduates immediately attend college. And the rate of college matriculation is dropping, as some young people fear that a four-year degree won't deliver them economic advantages. (Most likely, though, it will.)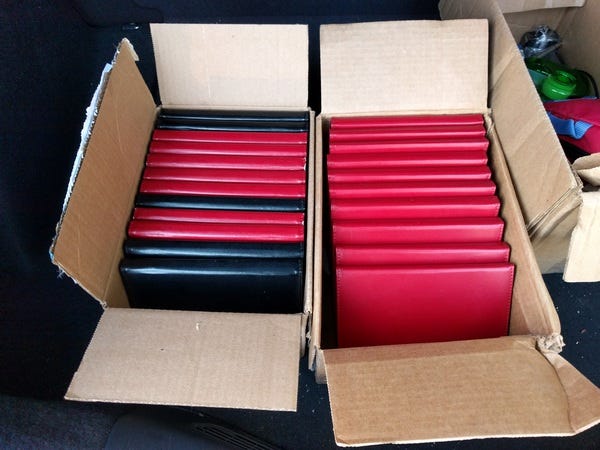 My hobby is the Kindle Classroom Project, which now serves 615 students and 12 teachers in five Bay Area high schools. Here are 22 Kindle 7s being delivered to Ms. Katz's 10th grade advisees in Oakland. I'm really happy that the program is expanding. Please get the word out!
Do We Have to Send Our Kid to a Bad Public School?
The NYT Ethicist weighs in on the question about whether a middle-class interracial couple should send their child to a public school in Oakland with low test scores. Unfortunately, the advice is wrong, wrong, wrong.
This Is What $15 an Hour Looks Like
Good reporting on Emeryville and its move to raise the minimum wage to $15. About the increase, one worker said, " "We are not rich," he says. "Just in the middle. But it's a lot better than being poor."
Enjoy your MLK weekend! Tell someone about Iserotope Extras! Or send me a reply letting me know which article you liked most!
Don't miss out on the other issues by Mark Isero
Become a member for $3 per month
You can manage your subscription here.
In order to unsubscribe, click here.
If you were forwarded this newsletter and you like it, you can subscribe here.
Created with Revue by Twitter.