Iserotope Extras - Issue #19

Today you get 5 articles, not 4. It's like a bonus! First up is a wonderful interview between two good friends. Then comes a multimedia profile of a changing (gentrifying) block in Brooklyn. After an interstitial image, The Economist tells us (again) about how the United States has it all wrong, and then please enjoy two excellent pieces about teaching reading.
Ruth Bader Ginsburg and Gloria Steinem on the Unending Fight for Women's Rights
I've always liked Ruth Bader Ginsburg, but in this wonderful interview, I learned that I also like Gloria Steinem. Both women are smart, strong, and very funny. When the interviewer remarks how far women's rights have progressed, Ms. Steinem responds, "There's no virtue in injustice."
You don't have to live in New York to appreciate this profile of one block in Bed-Stuy. It's an historical journey through life on one stretch of MacDonough Street, a block that, like Brooklyn itself, has seen massive change. This is totally cool.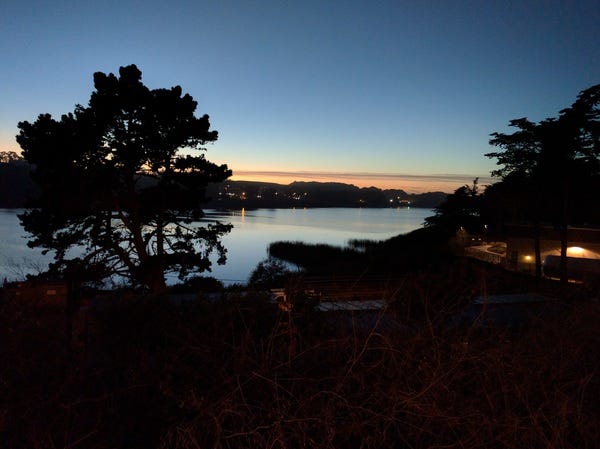 This is Lake Merced in San Francisco. When I'm running, which I'd like to do more often, this is my go-to route. Not as photogenic as its Oakland counterpart, Lake Merritt, it's still extremely beautiful, especially at sunset.
The Economist is always a bit sassy. This article argues that even if the United States prides itself on meritocracy, it's the rich who can win the merit game any day. (Lots of good charts and graphs in this one, too, for social studies teachers.)
Donalyn Miller is one of the leading proponents of independent reading in schools. She writes, "The books we create (or don't), sell (or don't), buy (or don't), shelve (or don't), read aloud (or don't), assign (or don't), and promote (or don't) shape the narratives our children write about our world and themselves."
Teaching Strategies: Annotating to Engage, Analyze, Connect, and Create
I've long believed that we need to make reading more like writing. In other words, what's going on in students' heads has to be more public. Otherwise, they can hide behind years of stigma and shame. Annotation is the way to go (though some students resist). Here are some great ideas for teachers.
Thank you for reading this week's edition of Iserotope Extras. Please choose one of the following for homework: (1) Reply to this email and let me know your favorite article, (2) Get one of your friends to subscribe (without resorting to duress). See you next Thursday!
Don't miss out on the other issues by Mark Isero
Become a member for $3 per month
You can manage your subscription here.
In order to unsubscribe, click here.
If you were forwarded this newsletter and you like it, you can subscribe here.
Created with Revue by Twitter.