Iserotope Extras #61: Someone Who Thinks Like Me

Welcome, everybody, and all you need to know this week is that the Giants are in the playoffs! (Good job, Mr. Bumgarner and Mr. Gallaspie.) Also, I have 4 great articles for you: (1) how voting machines are terrible, (2) how Trump supporters may have mental illness, (3) how our love for iPhones is killing people in Congo, (4) how a boy comes of age at Paris Fashion Week. Please enjoy!
The Computer Voting Revolution Is Already Crappy, Buggy, and Obsolete
After 2000 (hanging chads), tons of money went into voting machines, and since then, there have been major problems with miscounts. This story is about Memphis and its voting machines' decade-long tendency to undercount African American votes. It is extremely worrisome to me.
'Finally. Someone who thinks like me.'
This profile of a Trump supporter attempts to humanize a poor white middle-aged woman from western Pennsylvania, except it becomes clear early on that Melanie Austin has severe mental health issues. Like many Trump supporters, Ms. Austin believes deeply in conspiracy theories (including that Barack Obama is gay and that Michelle Obama is a man) and spends too much time on the Internet.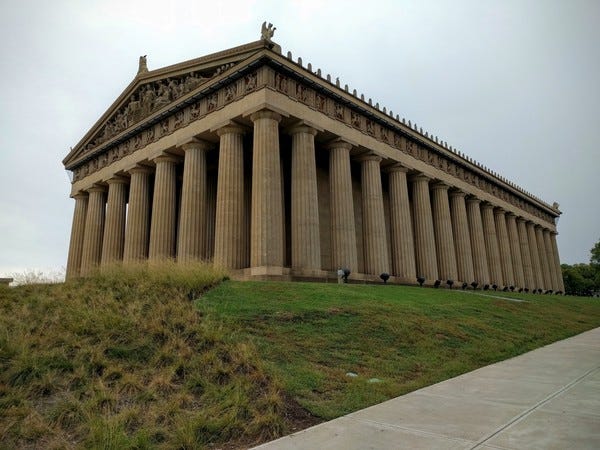 Look, everyone! The Parthenon is in Nashville.
Cobalt mining for lithium ion batteries has a high human cost
The lithium ion batteries that power our smart phones, laptops, and electric cars contain cobalt. Sixty percent of that cobalt comes from mines in Congo, where 100,000 men (and sometimes children) labor in dangerous conditions for about $2.50 a day. While tech companies investigate their supply chains, people are dying. (If you're claustrophobic, don't watch the first video.)
Read this delightful piece by author Michael Chabon (Telegraph Avenue, The Amazing Adventures of Kavalier & Clay), who takes his son, Abe, to Paris Fashion Week. Abe, 13, cares deeply about fashion, but unfortunately, his father is indifferent. Read all the way until the end of this article and you realize this is a double coming-of-age tale.
That's it for Issue #61! Hope you liked it. Feel free to email me with your thoughts or share this issue with others. Also, let's please welcome Erik, who joined Extras this week! Have a great week, and see you next Thursday at 9:10 am.
Don't miss out on the other issues by Mark Isero
Become a member for $3 per month
You can manage your subscription here.
In order to unsubscribe, click here.
If you were forwarded this newsletter and you like it, you can subscribe here.
Created with Revue by Twitter.