#91: What Bullets Do To Bodies

Today's issue of The Highlighter isn't as gloomy as last week's, but I'm still trending serious. The first two articles remind us to live for purpose and to use our time well. The second two articles point out that well-intentioned laws do not work when ill-intentioned people carry them out. Finally, the last two articles offer glimpses into worlds you may have never considered. I hope you enjoy all six articles and the two photographs along the way!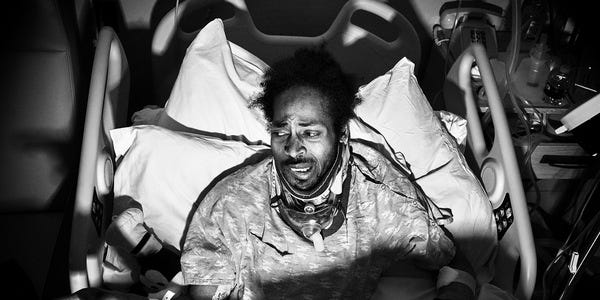 Dr. Amy Goldberg has been a surgeon in the trauma unit at Temple University Hospital in Philadelphia for the past 30 years. Her life's work is to save people from dying from gun violence. If we knew what bullets do to bodies, Dr. Goldberg says, we would change our minds about our right to bear arms. The problem, of course, is that many white people, even after Sandy Hook, have decided that gun violence is not a real problem, that it affects only people of color in cities.
This is an exquisitely written article about a man and his father who study Homer's Odyssey and then go on a cruise to Greece. It is about the journey of life; it is about how our parents know us more than we can know them; it is about how living is about facing uncertainty; it is about how the story is better than the real thing. Thank you, loyal subscriber Monica, for recommending this piece.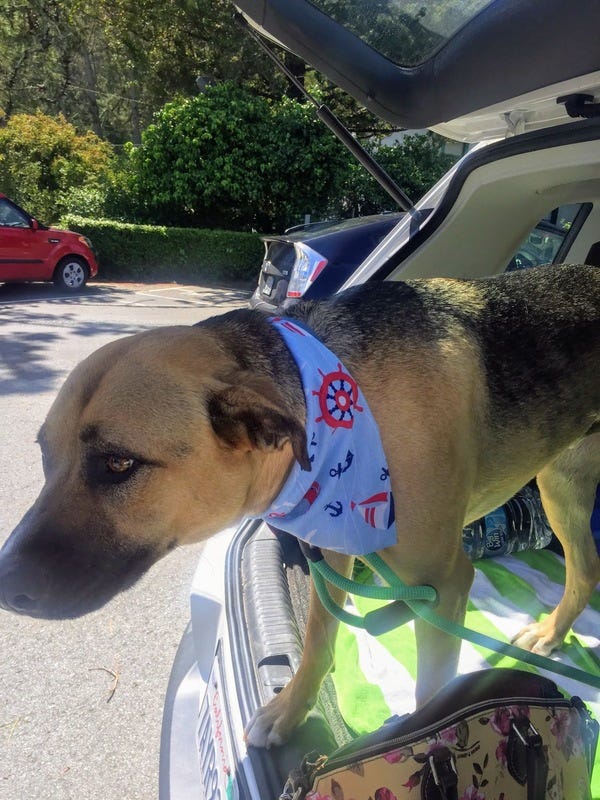 Elegantly adorned Brandon (the bag is not his) is ready for a walk. He belongs to loyal subscriber Kathleen, who celebrates her birthday tomorrow.
How Case Farms Exploited Immigrants, Then Used Law Against Them
Wow, this one — about Case Farms, a chicken company that supplies to Popeyes and KFC — is a rough one. It starts like Fast Food Nation, with stories of gruesome injuries and horrendous working conditions, and keeps on going, demonstrating how big business exploits undocumented immigrants and then eviscerates them, using laws against their own workers.
Gerrymandering Is Illegal, but Only Mathematicians Can Prove It
I like articles that teach me things. This well-written piece by Erica Klarreich offers a good history of gerrymandering, explains two ways (packing, cracking) that politicians draw biased districts, and shows how technology may help courts decide on standards of fairness. Interesting point: We seem to want our districts "compact," rather than diffuse (like a salamander), but such a standard may hurt Democrats (who tend to concentrate in urban centers) over Republicans (who tend to live disparately throughout a state).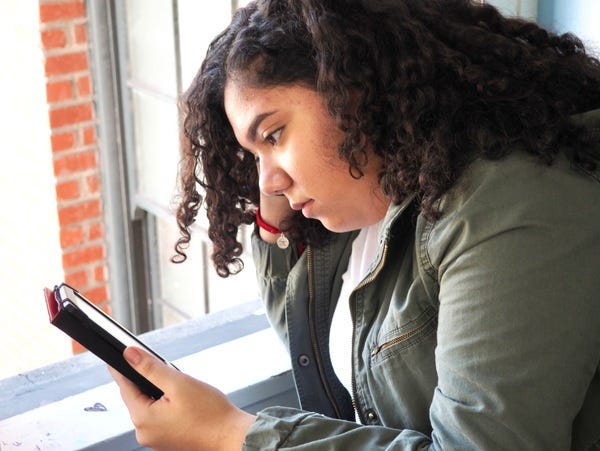 10th grader Vanessa enjoys a sunny day, an open window, and a good book at Envision Academy in Oakland. Photo credit: Loyal subscriber Laura. Teacher credit: Loyal subscriber Samantha.
Mental Health Services in Ghana: A Prayer's Chance
When 10-year-old Samuel Donkoh began laughing uncontrollably on a soccer field one day in Ghana, his family did not know what to do, particularly when his erratic behavior did not stop. The Devil had taken him. The local hospital could not help. Samuel's mother decided to take him to a rural Pentecostal camp for spiritual treatment, which left Samuel chained to a tree. Just when you start blaming Ghana for its lack of regard, the author reminds you of the treatment that the mentally ill receive in the United States.
Looking Up Words? You're Probably Using the Wrong Dictionary
This article is for all the word nerds out there. James Somers writes this ode to his favorite dictionary, An American Dictionary of the English Language, by Noah Webster. (Mr. Webster wrote the dictionary — all 70,000 entries — himself, over the course of 26 years.) Unlike today's dictionaries, which are lifeless, the original Webster's is a delight. Get ready for long exultant language about words like "fustian" and "pathos."
Thank you for reading The Highlighter #91. Please welcome new subscriber Unity! What did you think of this issue? If you like, please vote thumbs-up or thumbs-down below, or type me a quick response. As always, keep encouraging eager readers to give this digest a try. It's worth it, don't you think? See you next Thursday at 9:10 am.
Don't miss out on the other issues by Mark Isero
Become a member for $3 per month
You can manage your subscription here.
In order to unsubscribe, click here.
If you were forwarded this newsletter and you like it, you can subscribe here.
Created with Revue by Twitter.