#89: Going It Alone

Welcome, Loyal Subscribers, to Issue #89! There's never a dull moment at The Highlighter. This week, as is becoming customary, you get a bit of everything: hiking the Appalachian Trail, the unfortunate return of Rachel Dolezal, the horrors of private prisons, how Americans love perpetual war, and the verisimilitude of Girls. (It's always a good day when you can sneak in the word verisimilitude.) Plus, I'm pleased to announce that pet photographs are back (by overwhelming popular demand), so please enjoy, and keep those photos coming. Happy reading!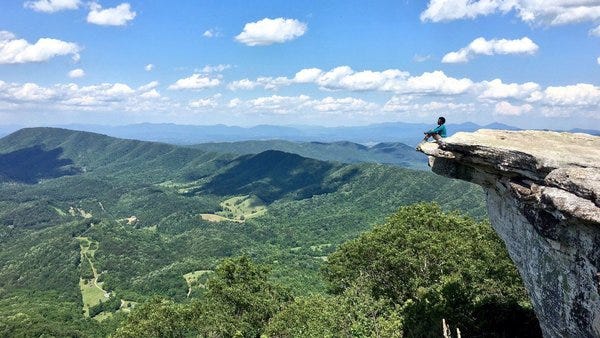 Last year Rahawa Haile trekked the 2,190-mile Appalachian Trail, and it wasn't just a physical accomplishment. As a queer Black woman, Ms. Haile found that the people she met, mostly in the pro-Trump towns off the Trail, sparked more fear in her than the possibility of wild animals or treacherous terrain. In this piece, Ms. Haile raises the question of who the wilderness is for, and whether it's possible that the Trail is a source of freedom for white people, and the opposite for people of color.
The Heart of Whiteness: Ijeoma Oluo Interviews Rachel Dolezal, the White Woman Who Identifies as Black
This article by the talented Ijeoma Oluo so entirely eviscerates the ridiculousness that is Rachel Dolezal that Jezebel says we will never have to think about her again. Ms. Oluo is scathing and relentless in her criticism of Ms. Dolezal. But it's bigger than that. She writes, "It is white supremacy that told an unhappy and outcast white woman that black identity was hers for the taking. It is white supremacy that then elevated this display of privilege into the dominating conversation on black female identity in America. It is white supremacy that decided that it was worth a book deal, national news coverage, and yes—even this interview."
For Young Man Convicted of a Crime in Hawaii, a Death at a Private Prison in Arizona
Private prisons infuriate me (also #48). This article is about how a young man from Hawaii — with an arson conviction, an IQ of 70, a 1st grade reading level, an ADHD diagnosis, and a drug addiction — got reassigned to a private prison 3,000 miles away in Arizona, where later he died. It turns out that due to limited correctional facilities and prison overcrowding, Hawaii sends nearly half its felons to a prison in the Sonoran Desert, run by CoreCivic (formerly Corrections Corporation of America), the nation's largest network of for-profit prisons. (CoreCivic has a promo video, ugh.)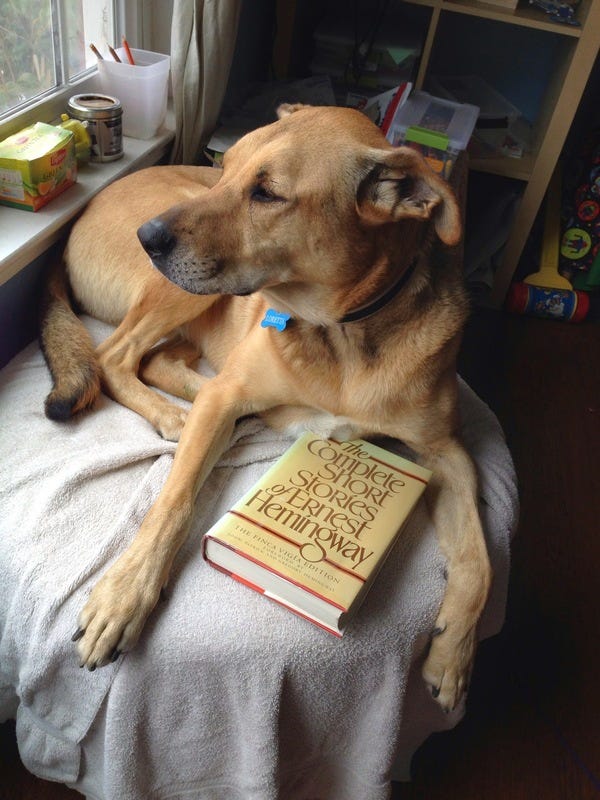 Loretta, who belongs to loyal subscribers Abby and Kester, enjoys good literature. If you would like your pet to be featured in The Highlighter, please send me a photo!
In America, We Are Addicted to War, And We Are Afraid of Peace
Like Oceania in George Orwell's 1984, our country is in a state of perpetual war. Our young people have not lived a day of their lives with their country at peace. Just last week, we fired 59 missiles at Syria; we dropped an enormous bomb on Afghanistan; we threatened North Korea with an armada. This article, from two years ago, explains our country's fascination with war. The author, a U.S. Army colonel, quotes Tim O'Brien's The Things They Carried (which gets him some points) and then writes, "Perhaps it is fear and cowardice, not courage, which promote conflict."
On Finally Watching 'Girls,' a Better Show Than I'd Been Led to Imagine
I watch very little TV, so sometimes I find myself entirely isolated from normal conversations about, say, Lena Dunham. Good thing then that I caught the last few episodes of Girls, which ended last week. But really the reason I'm including this piece is that Jia Tolentino wrote it, and Ms. Tolentino is pretty rad. (She wrote one of my favorite articles of 2016, about how she helped privileged white girls get into college.) About Girls, Ms. Tolentino writes: "The show was so well-written, so carefully directed, and so attuned to a narrow type of rarely-seen-before verisimilitude that some portion of its audience simply lost the ability to distinguish it from real life."
Thank you very much for reading #89. Let's please welcome new subscribers Laura and Viray — glad you're here! More and more people are signing up to receive The Highlighter because loyal subscribers are getting the word out. Thank you, and I'll see you next Thursday at 9:10 am!
Don't miss out on the other issues by Mark Isero
Become a member for $3 per month
You can manage your subscription here.
In order to unsubscribe, click here.
If you were forwarded this newsletter and you like it, you can subscribe here.
Created with Revue by Twitter.