#75: The Obama Speeches

Hi there, and welcome to Iserotope Extras #75! Please welcome new subscribers Melissa, Jonathan, Chris, James, and Trevor! This week, we begin with comparing the discourse of President Obama with President-elect Trump. Then we move to two pieces about freedom, imprisonment, and mercy. We end the issue with two role models who do good things in the world. In between, please enjoy photos of books and muffins. Happy reading!
President Obama gave his farewell address on Tuesday, and in many ways, it followed the classic structure of a typical Obama speech. Read more about Obama's speeches in George Blaustein's detailed textual analysis. Not only does Mr. Blaustein look back at the best of Obama's speeches, but he also considers Obama's point of view, motifs, and rhetorical devices. If you're an English teacher, social studies teacher, or lover of language, I highly recommend this article.
Donald Trump may or may not be like Adolf Hitler, but he is definitely like Vladimir Putin, according to Russian and American journalist Masha Gessen (who wrote this fantastic piece in Extras #67). You've probably read tons of articles on the similarities between Mr. Trump and Mr. Putin, but this one is the most lucid (and most frightening). Really scary is Ms. Gessen's explanation for why they both lie: It is to build power, to eradicate facts, "to assert power over truth itself."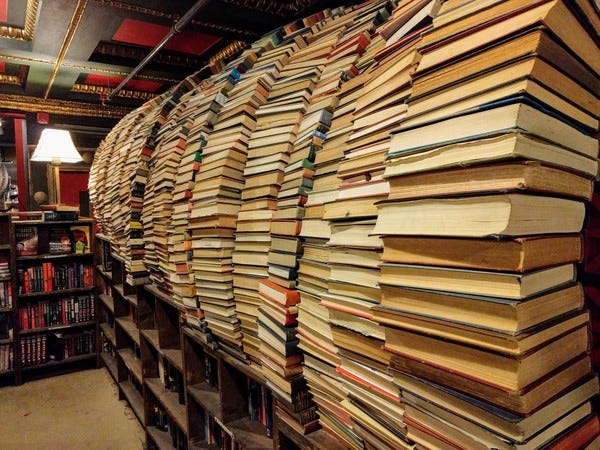 The Last Bookstore, Los Angeles.
More than 25 years ago, 12-year-old Edwin Debrow murdered a taxi driver. He remains behind bars. Should a child criminal be given a second chance, and if so, when? This is not an easy article to read, but I recommend it, because it's not your typical of-course-he-should-be-freed story. (If you're moved, let me know what you think!)
"I Don't Think We're Free in America" An Interview with Bryan Stevenson
We should keep listening to Bryan Stevenson (one of my favorite people), executive director of the Equal Justice Initiative and author of Just Mercy (my review). In this interview, he says, "I don't think we're free in America. I think we're all burdened by this history of racial injustice, which has created a narrative of racial difference, which has infected us, corrupted us, and allowed us to see the world through this lens. So it becomes necessary to talk about that history if we want to get free."
Here are some delicious muffins I made all by myself.
You don't have to like Tim Gunn or Project Runway to love this episode of the How to Be Amazing podcast. Mr. Gunn is delightful, and host Michael Ian Black asks excellent probing questions. This interview deserves 65 minutes of your listening ears. Thank you to loyal subscriber Peter for his recommendation.
Sidewalk bookseller in South Africa believes in the power to change lives
Sandile Mavimbela sells books on the streets of Johannesburg, South Africa. When he was 9, Mr. Mavimbela became an orphan after his father died of AIDS and his mother left the family. Reading and selling books saved him from alcohol and the drug trade. "Buying a book is an act of hope," Mr. Mavimbela says, and selling books helps him connect with people, engaging their curiosity and connecting them to knowledge.
I think 75 is a pretty good number, don't you think? Whether you have been with Extras since Issue #1 (we've come a long way), or if you just subscribed this week, it doesn't matter — I value and appreciate you all! Reply if you want to share your thoughts, or share this issue (or the archives) with someone you care about. See you next Thursday at 9:10 am!
Don't miss out on the other issues by Mark Isero
Become a member for $3 per month
You can manage your subscription here.
In order to unsubscribe, click here.
If you were forwarded this newsletter and you like it, you can subscribe here.
Created with Revue by Twitter.