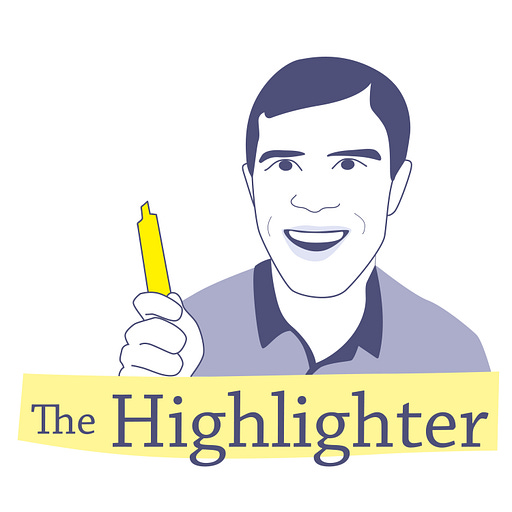 Feb 16 • 24M
#381: An interview with Naomi Gordon-Loebl, author of "Saying Goodbye to My Chest"
There's still time to join our discussion next Sunday, February 26
Why are there so many book clubs and so few article clubs? Let's change that! Join The Highlighter Article Club, where we read, annotate, and discuss one outstanding article every month on race, education, or culture.
Happy Thursday, loyal readers. Great to see so many new subscribers here this week. Welcome to our kind and thoughtful reading community. Hope you like it here.
This month at Article Club, we've been focusing on "Saying Goodbye to my Chest," by Naomi Gordon-Loebl. If you haven't read the article yet, I encourage you to do so. In the essay, Gordon-Loebl poignantly and vulnerably discusses her upcoming top surgery. It's outstanding.
Also: I hope you'll join us to discuss the article on Sunday, February 26, 2:00 - 3:30 pm PT on Zoom. There's still time to sign up! Article Clubbers are kind and thoughtful and welcoming. Our conversations are always in small, intimate, facilitated groups.
I'm excited to share that I had the opportunity to interview Naomi a couple days ago about her brilliant essay. We talked about a number of topics, including:
how it feels to be on the other side of her top surgery

how there's no one monolithic experience of being trans

how trans people deserve stories of nuance and complexity

how writing is like going down to the bottom of the ocean and noticing what you're seeing along the way

how educators should treat trans kids (and all kids) in the classroom
I hope you take a listen and let me know what you think.
Thank you for reading this week's issue. Hope you liked it. 😀
To our 65 new subscribers – including Faith, Francis, Jessica, Sarah, Mary Lou, Adrienne, Hilary, Jenn, Maria, Kate, Tracy, Marilyn, Paula, Kellie, Abby, Laura, Tim, Dakota, Lauren, Shannon, Erin, Dolores, Colleen, Carly, Nicole, Lorna, Heidi, Paula, Kat, Emma, Kelsey, Kim, Alex, Terri, Hallie, Jodie, Carolyn, Tiffany, Marian, Melinda, and Jillian – I hope you find the newsletter a solid addition to your email inbox. To our long-time subscribers (Venus! Vard! Violet!), you're pretty great. Loyal reader Mike, thank you for sharing the newsletter and getting the word out.
If you like The Highlighter Article Club, please help it grow. I really appreciate your support. Here are two ways you can help out:
❤️ Become a paid subscriber, like Lorna and Jack (thank you!). You'll join an esteemed group of readers who value the mission of The Highlighter Article Club. Plus you'll receive surprise perks and prizes. (The hoodie is next!)
📬 Invite your friends. Know someone who's kind, thoughtful, and loves to read? Share with them today's issue and urge them to subscribe. Word of mouth is by far the best way to strengthen our reading community. Thank you very much for spreading the word.
On the other hand, if you no longer want to receive this newsletter, please feel free to unsubscribe. See you next Thursday at 9:10 am PT!