#371: The Reading Mind
On this Thanksgiving: An ode to reading, Octavia E. Butler, and the pain of feedback
Happy Thanksgiving. Thank you for supporting me and this newsletter. Most of all, thank you for being loyal readers and for being part of our reading community.
Over the years, I've said many times: Reading by itself is not going to make our world a better place. But I do believe that reading is part of the journey. It's a powerful act of introspection, compassion, and connection. Especially now, when corporations and institutions vie for every fraction of our attention, demanding that we scroll and click and reply with rage, the practice of reading teaches us stillness and reminds us to remain open to ideas and possibilities.
That's what I'm hoping for here: that we take a few minutes each week to get away from the bustle, to read something beautiful and thought provoking, to reflect on how it resonates with us – and if we feel moved, to share our experience with a friend.
⭐️ I'd love to hear from you: What does reading do for you?
"We were never meant to read," says Prof. Maryanne Wolf in this fascinating conversation with Ezra Klein. There is nothing natural or genetic about it. But the invention of text 6,000 years ago, alongside the brain's capacity to create novel neural networks, has fundamentally transformed the human experience.
But most of us, she argues, are no longer practicing the kind of deep reading that expands our minds. Instead, we're skimming for information, usually on screens, rather than taking the time to allow for reading to achieve insight and epiphany.
Many of us have, if you will, regressed to that earliest form of reading in which we are barely skimming the surface of what we read, barely consolidating it in memory, and we are in fact reading less of what is there as a result.
The reason we have regressed, Prof. Wolf argues, is that how we read – and therefore, what we discern, what we comprehend – is determined by the medium on which text is delivered. On the one hand, the affordances of the digital medium support the consumption of voluminous amounts of information. Skimming and scrolling are effective defense mechanisms to help us get through the day. But they also limit our ability to infer, to take on perspectives, and to deduce truth.
The answer is not to flee from the digital world and abscond to a cabin in the woods of Montana where print books and newspapers and typewriters abound. Prof. Wolf suggests a more practical approach: carve out time for mindful reading, read differently based on our goals for the text, and make screens work for us (69 min).
➡️ Listen to the conversation & read the transcript | Listen on Apple Podcasts
Octavia E. Butler wanted to be a famous writer. So she manifested it into existence. "I shall be a bestselling writer," she wrote in her journal. "This is my life. I write bestselling novels. My novels each travel up to the top of the bestseller lists and they reach the top and they stay on top. So be it! See to it!" In this beautifully written profile, the result of extensive research at The Huntington Library, E. Alex Jung reveals enchanting details of Ms. Butler's extraordinary life. "I never bought into my invisibility or non-existence as a Black person," she wrote in her journal. "As a female and as an African-American, I wrote myself into the world. I wrote myself into the present, the future, and the past." (33 min)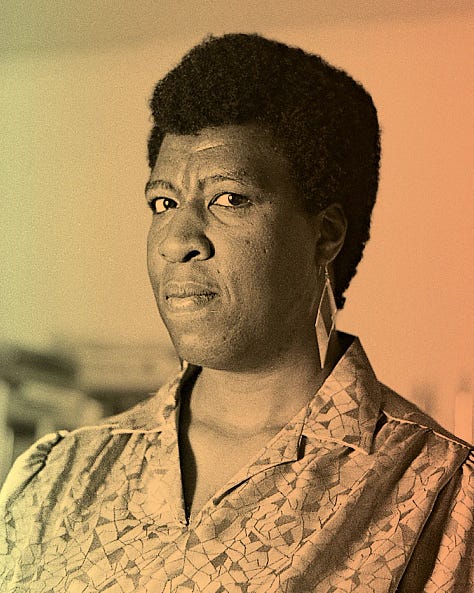 My last job had a culture of continuous improvement. When you did a thing, you had to ask for feedback, even if you didn't want to hear it, and even if people didn't want to give it. Sometimes the feedback was helpful. Other times it was not. I still remember the workshop I led about best practices for encouraging student inquiry in the classroom. "This event would have been better with hot cocoa," one person wrote. This well-written article expands on the theme, exploring how requirements to include community input on government projects actually make our communities less equitable and less democratic. Author Aaron Gordon argues that if we really want to build housing and improve transportation, we should either limit input or change the format of public comment, eliminating shouting matches and finger pointing. (29 min)
Thank you for reading this week's issue of The Highlighter Article Club. Hope you liked it. Feel free to share your thoughts. I'd love to hear from you.
To our three new subscribers – including Bella and Hannah – I hope you find the newsletter a solid addition to your email inbox. To our long-time subscribers (Kiara! Ken! Korey!), you're pretty great, too. Loyal reader Joren, thank you for sharing the newsletter and getting the word out.
If you like The Highlighter Article Club, please help it grow. I really appreciate your support. Here are two ways you can help out:
❤️ Become a paid subscriber, like Lisa and Daniel (thank you!). You'll join an esteemed group of readers who value the mission of The Highlighter Article Club. Plus you'll receive surprise perks and prizes. (A new T-shirt is coming at HHH.)
📬 Invite your friends. Know someone who's kind, thoughtful, and loves to read? Share with them today's issue and urge them to subscribe. Word of mouth is by far the best way to strengthen our reading community. Thank you very much for spreading the word.
On the other hand, if you no longer want to receive this newsletter, please feel free to unsubscribe. See you next Thursday at 9:10 am PT!