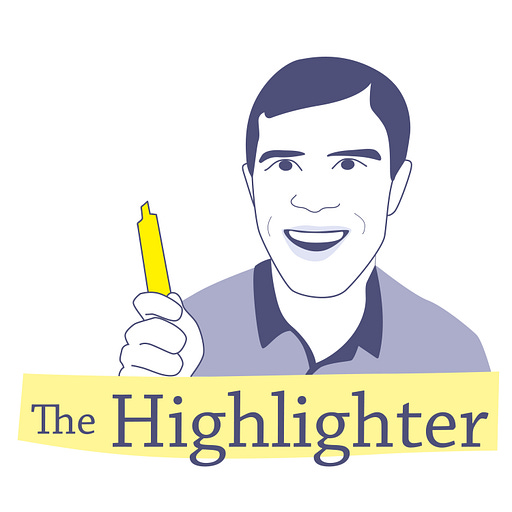 Nov 10, 2022 • 31M
#369: An interview with Eli Saslow, author of "An American Education"
Educators and parents, come join our conversation on Sunday, November 20
Why are there so many book clubs and so few article clubs? Let's change that! Join The Highlighter Article Club, where we read, annotate, and discuss one outstanding article every month on race, education, or culture.
Happy Thursday, loyal readers. This month at Article Club, we've been focusing on "An American Education," by Pulitzer Prize-winning journalist Eli Saslow.
If you haven't read the article yet, I highly encourage you to do so. It's outstanding. It's about how the superintendent of a school district in Bullhead City, Arizona, tries to deal with its severe teacher shortage by attracting top-notch educators from the Philippines. It's also about one of those top-notch educators – Rose Jean Obreque – whose skills and optimism and high expectations and growth mindset unfortunately are no match for American middle school students and their shenanigans.
It's a depressing story, no doubt, but it nonetheless tells the truth of what teachers and students are currently experiencing in schools across the country. I hope you'll join us to discuss the article on November 20, 2:00 - 3:30 pm PT on Zoom.
I'm also very happy to share that I had the opportunity to interview Mr. Saslow yesterday about his brilliant article. We talked about a number of topics, including:
how writing the piece reaffirmed his deep respect and appreciation for teachers

how it felt to be in a chaotic classroom, especially as a parent

how of course it's hard to recruit teachers when you're paying them $38,000

how he approaches writing about what it's like for people who are "in the swirl of our country's biggest problems"

and yes, spoiler alert, that ending (wow)
I hope you take a listen and let me know what you think.
---
Thank you for reading this week's issue of The Highlighter Article Club. Hope you liked it. Feel free to share your thoughts and feedback. I'd love to hear from you.
To our five new subscribers – including Chris, Daniel, and Rebecca – I hope you find the newsletter a solid addition to your email inbox. To our long-time subscribers (Irene! Izzy! Isis!), you're pretty great, too. Loyal reader Janet, thank you for sharing the newsletter and getting the word out.
If you like The Highlighter Article Club, please help it grow. I really appreciate your support. Here are some ways you can help out:
📬 Invite your friends. Know someone who's kind, thoughtful, and loves to read? Share with them today's issue and urge them to subscribe. Word of mouth is by far the best way to strengthen our reading community. Thank you very much for spreading the word.
❤️ Become a paid subscriber for $3 a month, like Chris and Cal (thank you!). You'll join an esteemed group of readers who value the mission of The Highlighter Article Club. Plus you'll receive surprise perks and prizes. (A new T-shirt is coming at HHH.)
☕️ Buy me a coffee to express your appreciation of the newsletter
On the other hand, if you no longer want to receive this newsletter, please feel free to unsubscribe. See you next Thursday at 9:10 am PT!