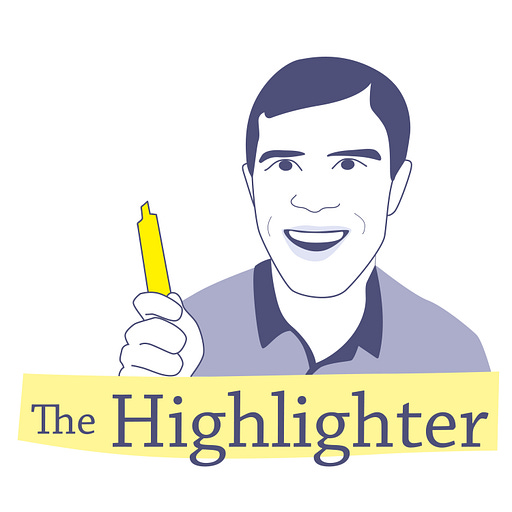 Aug 18, 2022 • 27M
#357: Interview with Josh Dzieza, author of "Revolt of the Delivery Workers"
"In terms of how to be a better consumer, all the workers would say: Be more aware of the difficulty of the job and know where you're ordering from."
Why are there so many book clubs and so few article clubs? Let's change that! Join The Highlighter Article Club, where we read, annotate, and discuss one outstanding article every month on race, education, or culture.
Dear Loyal Readers,
This week I want to focus on something many of you might not even know: The Highlighter Article Club has a podcast, too. (Did you know?)
I mean, it's not a famous podcast (yet), and it comes out only once or twice a month, but I fully vouch for the quality of its content. After all, most episodes involve an interview with an outstanding journalist or author. That's because since January 2020, our reading community has invited writers to join our monthly discussions of the very best articles on race, education, and culture. And many of them generously say yes!
This month, we're gathering online on Aug. 28, 2:00 - 3:30 pm PT, to talk about "Revolt of the Delivery Workers," by Josh Dzieza. I got a chance to interview Mr. Dzieza a couple weeks ago, and he thoughtfully shared how he reported the story and how the 65,000 delivery workers in New York City have fought for better wages, working conditions, safety measures, on tighter regulations of delivery apps.
I hope you take a listen! You can click on the play button above or you can subscribe to The Highlighter Article Club Podcast on your phone.
If the interview interests you, there's still time to join our discussion on Aug. 28. We're a kind, thoughtful group of people who enjoy thought-provoking conversations. You can sign up by clicking the button below, or you can email me with questions.
Thank you for reading this week's issue of The Highlighter Article Club. Hope you liked it. Feel free to share your thoughts and feedback. All you need to do is hit reply, email me, or leave me a voice message.
To our six new subscribers – Emma, Emmie, Laura, Suruchi, Social, and Wade – I hope you find the newsletter a solid addition to your email inbox. To our long-time subscribers (Wanda! Wes! Wayne!), you're pretty great, too. Loyal reader Laura, thank you for sharing the newsletter and getting the word out.
If you like The Highlighter Article Club, please help it grow. I really appreciate your support. Here are some ways you can help out:
📬 Invite your friends. Know someone who's kind, loves to read, and wants to spend less time doomscrolling? Forward them today's issue and urge them to subscribe. Word of mouth is by far the best way to strengthen our reading community. Thank you very much for spreading the word.
☕️ Buy me a coffee to express your appreciation of the newsletter and keep my reading stamina strong and mighty.
❤️ Become a VIP member for $3 a month, like Joel and Jessica. You'll join an esteemed group of readers who value the mission of The Highlighter Article Club. Plus you'll receive surprise prizes and exclusive audio letters from me to you.
On the other hand, if you no longer want to receive this newsletter, please feel free to unsubscribe. See you next Thursday at 9:10 am PT!