#347: The End of Equity

For many people, the summer protests of 2020 following the murder of George Floyd felt like a real chance for change. Ibram X. Kendi called for antiracism. Michelle Alexander called for the defunding of the police. Nikole Hannah-Jones called for reparations. There was a reckoning. There was a moment of possibility.
We all know what happened next: a global pandemic, a big lie, an insurrection, a backlash to The 1619 Project and critical race theory, book bans, anti-trans laws, and an upcoming Supreme Court decision. For some of us, this is a step backward. But for others – like San Francisco voters, who recalled progressive prosecutor Chesa Boudin, and Los Angeles voters, who backed pro-police mayoral candidate Rick Caruso – this is a desirable correction to increased crime and failed leftist policies.
Today's issue of The Highlighter includes two articles on both sides of the divide. The lead piece, "Equality ≠ Equity," may surprise many of you who have come to expect a social justice bent to this newsletter. Author Tal Fortgang argues that seeking equity, or the equality of outcomes, does not represent Americans' notions of fairness. Checking privilege is one thing; sacrificing privilege is another. I encourage you to read the article, especially if you think you'll disagree, like I did.
If you're an educator, like many of you are, don't read the second article, which profiles a gay teacher in Florida who resigned after the state passed the Don't Say Gay law. It's infuriating. Instead, take in the beautiful photo of Yosemite and head straight down to the last two pieces – about large-scale cheating in a college course and about promoting empathy and compassion among doctors. Please enjoy!
+ Want to read more, read more deeply, and connect with other thoughtful people? Check out Article Club. This month, we're reading "The Roe Baby," by Joshua Prager. Here's more information. We're meeting June 26.
Conservative law student Tal Fortgang believes at least two things are wrong with the progressive goal of equity, or common outcomes. First, notions of equality are too deeply rooted in American culture that seeking equity comes across as unfair. Equally as important, Mr. Fortang argues, Democratic leaders have hedged, not going all in on equity, afraid to be upfront with the American people on the true definition of equity for fear of losing the upcoming election. Besides, Americans like the idea of "equal opportunity." But equity? That's socialist. (14 min)
A Florida Teacher Felt She Had To Quit Amid "Don't Say Gay" Rhetoric
Up until this year, Nicolette Solomon taught fourth graders in Key Biscayne, Florida, with boundless joy. She was good, too – nominated teacher of the year. Then came HB 1557, dubbed the "Don't Say Gay" law, which emboldened Ms. Solomon's colleagues to explain that being gay is against God's rules and that she should not be teaching young children. One said, "I like you as a person, but I don't support gay marriage." Even though she loved the kids, Ms. Solomon decided she couldn't work at a school if she couldn't wear her wedding ring. (20 min)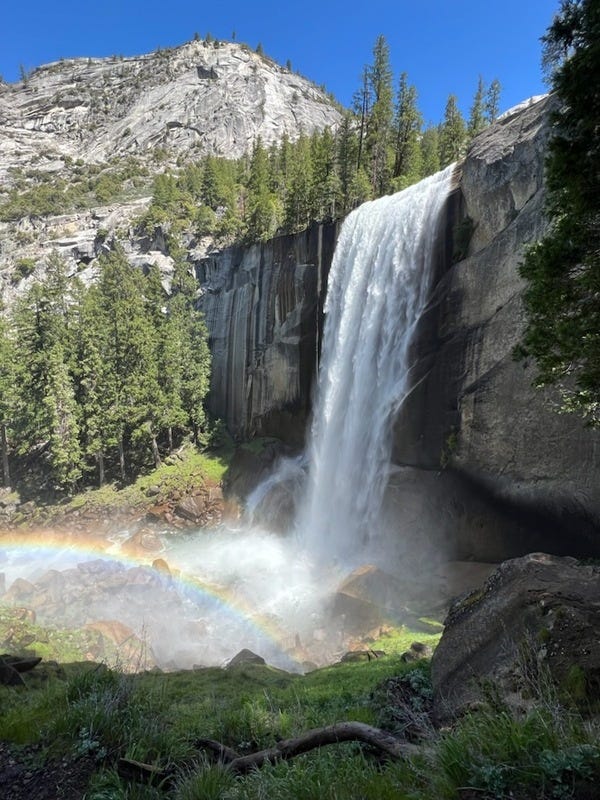 Last week's rare rainstorm led to wondrous waterfalls in Yosemite. Loyal reader Alison took this spectacular photograph of Vernal Falls for all of us to enjoy. Thank you Alison!
Matthew Crump teaches psychology at the Brooklyn College of CUNY. He wants the best for his students – even when they cheat. This is Prof. Crump's account of last semester's class, in which many of his students cheated (via a group chat), how much they cheated (a lot), and how well they cheated (they didn't know Prof. Crump was also on the group chat). What could easily be a gossipy gotcha story turns out to be a tale of redemption, thanks to Prof. Crump's empathy and desire to improve as an educator. (He's also pretty good at the programming language R.) (48 min)
Bad News 101: Empathy Training Helps Medical Students Sit With Uncertainty
It's not a secret that medical students spend most of their time learning about anatomy and diseases and very little time learning about how to interact with people. That's why Meg Senuta volunteers as a mock cancer patient and participates in role plays with medical students practicing how to deliver bad news. Why does she do it? She's a cancer survivor herself. "I'm still figuring out how to live with uncertainty and fear. I am still figuring out what happened to me," she writes. "How to make use of it. Not meaning, but use." (17 min)
Thank you for reading this week's issue of The Highlighter. Did you enjoy it? If so, give me a thumbs up below and tell me why. And if you didn't like it, that's OK, too – that's what the thumbs down is for.
To our four new subscribers – Mohamed, Courte, Mohamed, and Janet – I hope you find the newsletter a solid addition to your email inbox. To our long-time subscribers (Mona! Maureen! Mike!), you're pretty great, too. Loyal reader Francisco, thank you for sharing the newsletter and getting the word out.
If you like The Highlighter, please help it grow. I appreciate your support. Word of mouth is how our reading community gets stronger. Here are a few ways you can help:
📬 Forward today's issue to a friend and urge them to subscribe. If they use this sign-up form, they can say you referred them, and when I find out, I will shower you with thanks and praise (and maybe a prize).
☕️ Buy me a coffee (or two, like Beth! thanks Beth!) to express your love of the newsletter
❤️ Become a VIP member for $3 a month. You'll join an esteemed group of generous readers who value the mission of The Highlighter.
On the other hand, if you no longer want to receive this newsletter, please unsubscribe. See you next Thursday at 9:10 am PT.
Don't miss out on the other issues by Mark Isero
Become a member for $3 per month
You can manage your subscription here.
In order to unsubscribe, click here.
If you were forwarded this newsletter and you like it, you can subscribe here.
Created with Revue by Twitter.