#335: The State of Education In The Bay

Last night I attended a celebration for VIP Abby, an accomplished Bay Area educator, to honor her contributions as a teacher, teacher-leader, consultant, advocate of project based learning, champion of the graduate profile, and proponent of authentic performance assessment. It was wonderful to gather with outstanding educators to laugh and smile and remember why we do what we do.
It's not news that things have been hard out there in the education world. That's why last night was a gift. Depending on whom you ask, the pandemic has created, worsened, or illuminated the inequities and challenges we face. This week's issue offers a snapshot of what's happening in schools in the Bay Area, where many of us live.
Out here we might not have mean-spirited debates about mask mandates or Critical Race Theory or banning books from the school library. But the discord is deep, ranging from school closures in Oakland, Board recalls in San Francisco, lawsuits in Berkeley, and rancor at Lowell High School. Is this the sign of a fatally broken system? Or is it just democracy in action?
My hope is that you find time to read at least one article in today's issue, then share with me your thoughts. I'd love to hear from you! Feel free to record a voicemail or hit reply. Please enjoy!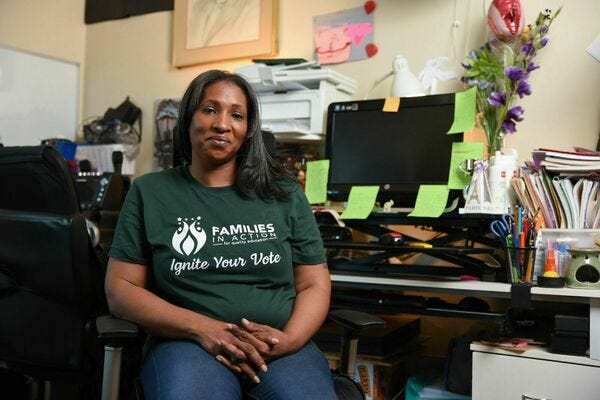 Why Do So Many Families Opt Out Of Oakland Unified?
This school year, 61 percent of children in Oakland attend a district school, while 28 percent go to a charter school and 11 percent opt for a private school. Certainly the pandemic has contributed to an exodus of families, with homeschooling a popular choice. But this article takes a longer view in explaining why fewer kids are attending Oakland Unified. The root causes include the ascent of charter schools, the instability of school closures, and the district's open enrollment system. District 3 school board Director VanCedric Williams believes that we should not treat the education of young people as a capitalist enterprise. "We have turned our schools into a free-market-based system where there are winners and losers," he says. As always, the perennial questions remain: What does it mean to be a public? What rights should families have in a democratic society? (15 min)
Will The New School Board Listen To Black Families In San Francisco?
The situation is no more optimistic across the Bay in San Francisco, where voters ousted three Board members last month. Many Black parents are skeptical that the district will put down politics and focus on academics, especially for their children. "It's not designed for African American boys," Joan Thomas said. With just 19 percent of Black students passing the state's reading test (compared with 31 percent statewide), the problem is "not just a gap anymore in San Francisco," Yvette Edwards says. A mother of two boys in San Francisco Unified, she adds, "It's becoming a gulf." (9 min)
+ If you hit a paywall, I suggest incognito mode.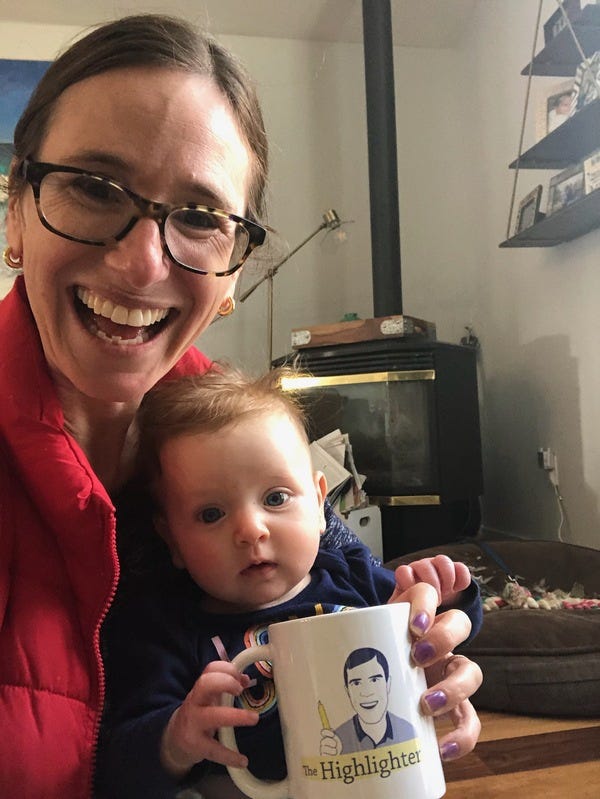 Loyal reader Hazel and her mother Marni love their new Highlighter Mug. You too can experience this joy! www.highlighter.cc/store/mug
College Town: The Conflict In Berkeley
Until three days ago, when Governor Gavin Newsom signed a law to allow admitted UC Berkeley students to enroll in the Fall, a contentious lawsuit between city residents and the university about the availability of housing had threatened the college plans of 2,600 students. In this clear piece, Prof. Scott Galloway blames recalcitrant homeowners who want to protect their high-priced property in a state whose dream Proposition 13 killed. It's great to have an elite university in the neighborhood, he argues, but only if not very many kids get to go. In addition to ranting, Prof. Galloway offers six ideas to revamp higher education for the better. (9 min)
Lowell: What Happens When an Elite Public School Becomes Open to All?
Nathan Heller: "Lowell, founded in 1856, is the oldest public high school in the West and a long-admired jewel of public education. For decades, Lowell has been one of two public high schools in San Francisco to use selective admissions, with a grade- and test-score cutoff for most applicants. In 2020, when the pandemic made universal standardized testing impossible, Lowell suspended its admissions standards in favor of a randomized, lottery-like system. Parents cried out. Alumni threatened and launched lawsuits, and a few current students protested. Lowell, once a meritocratic beacon, had become something else: a bellwether for the uncertain future of selective public education." (37 min)
+ Thank you to VIP Gail for recommending this.
Thank you for reading this week's issue of The Highlighter. Did you enjoy it? Let me know by clicking on "Yes" or "No" below. I like hearing from you.
To our two new subscribers Retha and Vanny, I hope you find the newsletter a solid addition to your email inbox. To our long-time subscribers (Deron! Derran! Deran!), you're pretty great, too. Loyal reader Teri, thank you for sharing the newsletter and getting the word out.
If you like The Highlighter, please help it grow. I appreciate your support. Here are a few ways you can help:
📬 Forward today's issue to a friend and tell them to subscribe
☕️ Buy me a coffee to express your gratitude
❤️ Become a VIP member to lock in your support
On the other hand, if you no longer want to receive this newsletter, please unsubscribe. See you next Thursday at 9:10 am PT.
Don't miss out on the other issues by Mark Isero
Become a member for $3 per month
You can manage your subscription here.
In order to unsubscribe, click here.
If you were forwarded this newsletter and you like it, you can subscribe here.
Created with Revue by Twitter.