#332: Great Articles Come From Great Writers

Happy Thursday, loyal readers. Thank you for being here. If you're a new(ish) subscriber, welcome. I hope you come to like The Highlighter.
This week I'm trying something different: celebrating the writers who bring us these outstanding articles. Over the past two years, I've had the opportunity to interview talented authors, who generously participate in Article Club, our thoughtful reading community that discusses one great article every month. It's been an honor to speak with every single writer. This week, I want to share some of my favorite interviews with you.
You'll hear from Brian Broome, Paul Tough, Stephanie McCrummen, Hafizah Geter, and Kathryn Schulz. They're among the best writers out there – and they're pretty great people, too. I encourage you to scan the blurbs, see which ones interest you, and take a listen to at least one of the interviews. My hope is that the conversations will inspire you to read the articles. They're all outstanding.
+ If Article Club interests you, please sign up. We'd be very happy to have you. It's a month-to-month commitment. If you like the month's article, you're in for the discussion! If not, that's OK, too.
+ Highlighter Happy Hour is nearly sold out! HHH is a joyful gathering of our kind, thoughtful reading community. We're meeting at Room 389 in Oakland on Thursday, March 3, beginning at 5:30 pm. There are four tickets left. Get yours here!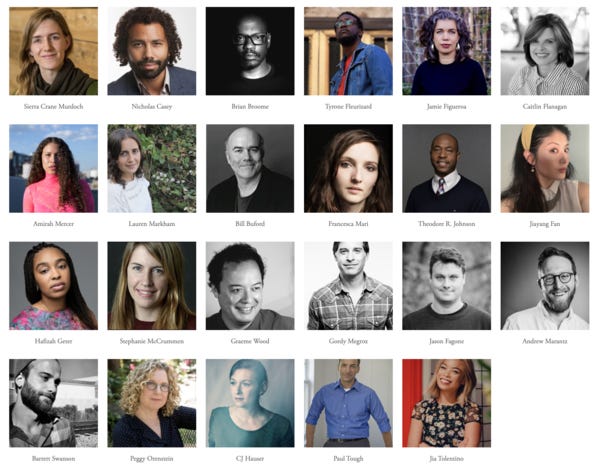 So far at Article Club, we've read 24 great articles by 24 great authors, who have generously participated in our reading community by recording a podcast interview or by joining our online discussion. More information is at highlighter.cc/articleclub and at articleclub.org.
When I featured "79" as one of 2018's best articles, naturally I wanted to speak to author Brian Broome. In this interview, Mr. Broome talks about how he became a writer in rehab, how the first piece he ever submitted got published, and how "79" began as a rant against white supremacy. We also explore the effects of capitalism and white supremacy on Black people and the perils of respectability politics. (34 min)
+ Since "79," Mr. Broome has published Punch Me Up to the Gods, which won the Kirkus Prize for nonfiction. He also joined us at Article Club last October to discuss "The Key," a chapter from his award-winning memoir.
I've loved Paul Tough's writing on education since Whatever It Takes, so when The Inequality Machine came out in 2020, I knew I wanted to read the book and invite him to Article Club. In this interview, Mr. Tough and I discuss "Getting An A," a heartwarming chapter about an introductory calculus class at the University of Texas featuring a first-generation college student named Ivonne and a talented math professor named Uri. Despite all the challenges in higher education, Mr. Tough still believes that college can be a path toward social mobility in the United States. (31 min)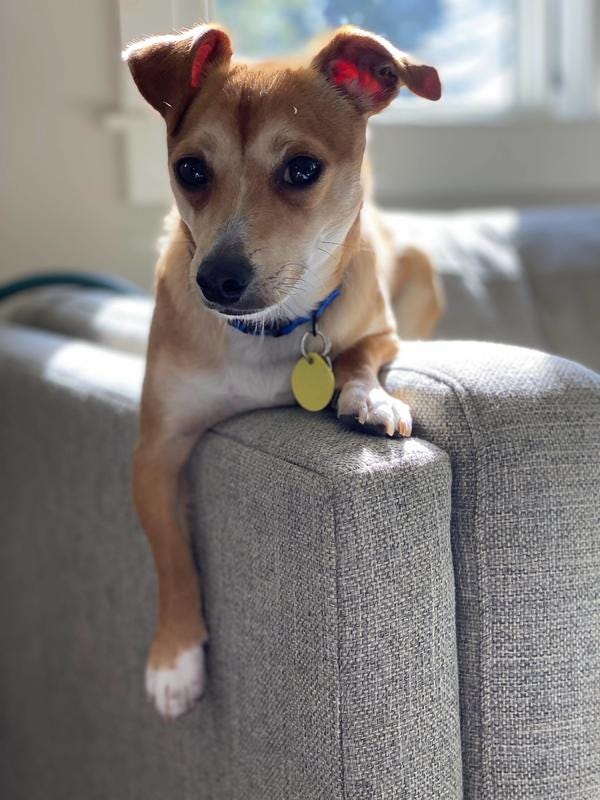 Arlo, who belongs to VIP Peter and me, is hoping to grace the cover of next year's Pets of The Highlighter calendar.
Stephanie McCrummen, "Miranda's Rebellion"
In this interview – about "Miranda's Rebellion," her outstanding article following the political transformation of a white suburban woman in Georgia during the run-up to the 2020 election – Stephanie McCrummen shares her philosophy of reporting and her high expectations of journalism. I especially enjoyed hearing how Ms. McCrummen joined Miranda and her friend Liz on long weekend hikes through the woods, trailing a few steps behind, remaining within earshot to diligently take notes along the way. (20 min)
+ Ms. McCrummen won the Pulitzer Prize in 2018 for her investigative reporting on a Senate candidate's sexual harassment of teenage girls in Alabama.
Hafizah Geter, "Theater of Forgiveness"
"Theater of Forgiveness" explores the intergenerational rage that emerges from our society's expectation that Black people forgive the atrocities that white people commit. It was one of the best articles of 2018. In this interview, author Hafizah Geter speaks to me and Sarai Bordeaux about her writing process and about the power of Black joy (and its danger to white people). Ms. Geter also reflects on the importance of reading. She says, "Reading is the most important thing. People always say, Reading is a solitary activity, which I don't understand. The first time you experience a book, someone is reading to you, so you can never ever be alone again." (57 min)
+ Since "Theater," Ms. Geter has gone on to write Un-American: Poems and The Black Period: On Personhood, Race & Origin, a memoir coming out in September.
Kathryn Schulz, "When Things Go Missing"
One of my favorite essays of the past five years, "When Things Go Missing" is this month's selection at Article Club. It's about losing (and finding) things, and it's beautifully written. Author Kathryn Schulz is one of my favorite writers, and in this interview, she talks about how she organized the piece, how she thinks about a concept she calls "and-ness," what her dad meant to her, why she included certain details and not others, and why she ended an article on loss with the phenomenon of finding. (28 min)
+ Ms. Schulz won the Pulitzer Prize in 2016 for "The Really Big One," about the imminent catastrophic earthquake that will hit the Pacific Northwest.
Thank you for reading this week's issue of The Highlighter. Did you enjoy the change of pace with the inclusion of author interviews? Or do you prefer all articles, all the time? Let me know by clicking on "Yes" or "No" below. I like hearing from you.
To our five new subscribers – David, Denise, Jonathan, Fabrice, and Brandon – I hope you find the newsletter a solid addition to your email inbox. To our long-time subscribers (Alison! Allison! Allyson!), you're pretty great, too. Loyal reader Brittany, thank you for sharing the newsletter and getting the word out.
If you like The Highlighter, please help it grow. I appreciate your support. Here are a few ways you can help:
On the other hand, if you no longer want to receive this newsletter, please unsubscribe. See you next Thursday at 9:10 am PT!
Don't miss out on the other issues by Mark Isero
Become a member for $3 per month
You can manage your subscription here.
In order to unsubscribe, click here.
If you were forwarded this newsletter and you like it, you can subscribe here.
Created with Revue by Twitter.