#331: Black History Is Your History

Happy Thursday, Loyal Readers. According to viral post yesterday on Twitter, a counselor in Indiana is letting parents opt their children out of lessons related to "Black History Month and Valentine's Day." Making his case to families, the counselor argues that "a greater understanding of diversity in the classroom and the outside world" will lead to "better grades" and "greater career success." I wonder what Ijeoma Oluo, author of today's lead article, "Black History Is Your History," would say about this unfortunate ridiculousness and the state of white supremacy in our public schools.
In addition to Ms. Oluo's piece, I encourage you to check out this week's other articles, which cover a variety of topics, in typical Highlighter fashion – from the backlash against trans rights, to the challenges of in vitro fertilization, to the glories of whole grain flour. Please enjoy!
+ You're warmly invited to Highlighter Happy Hour #16 on Thursday, March 3, beginning at 5:30 pm at Room 389 in Oakland. HHH is a joyful way to connect with other thoughtful readers. Space is limited to 24 people. The grand prize will be a particularly joyous one. Get your free ticket here!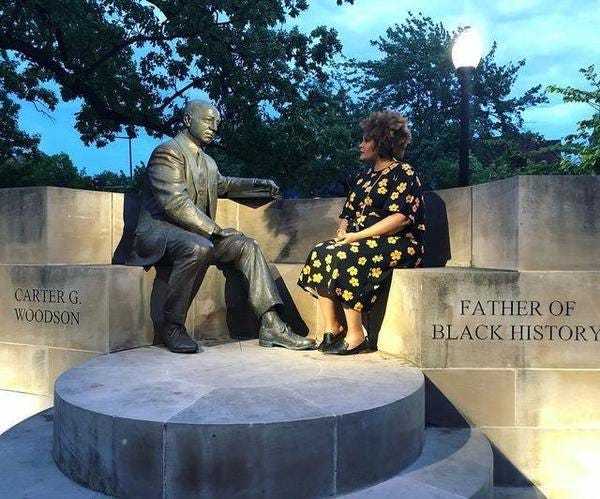 Ijeoma Oluo: "For white America, a true study of Black history will indict. A true study of Black history will remove the cover of claims to individuality and reveal the strategic and collective action of whiteness beneath it. A true study of Black history will reveal whiteness as not only a set of skintones and hair textures, but a social and political power structure willingly entered into, upheld, and defined by every individual white person in the collective. A true study of Black history will reveal the ways in which white America has never been able to survive without Blackness, and never will. A true study of Black history is one that, even at its most triumphant, is one that white America cannot celebrate no matter how often it tries to claim only the best and brightest of it." (8 min)
+ Ms. Oluo's writing has appeared several times in the newsletter. My favorite continues to be her vicious takedown of Rachel Dolezal, highlighted in Issue #89 in 2017.
Kris Wilka Just Wants To Play Football
Kris Wilka lives in Sioux Falls and loves playing video games, talking with his friends on Discord, writing Lana Del Rey fanfic, and most of all, playing football. Except his neighborhood junior high school told him he couldn't play because Kris is trans. Ever since he was 2, Kris has wanted to be "just a normal dude," but meanwhile, South Dakota legislators are passing laws prohibiting trans kids from playing sports and doctors from performing gender-affirming surgeries. Kris says, "All I want to do is be a kid and play what I love, which is football and sports." (17 min)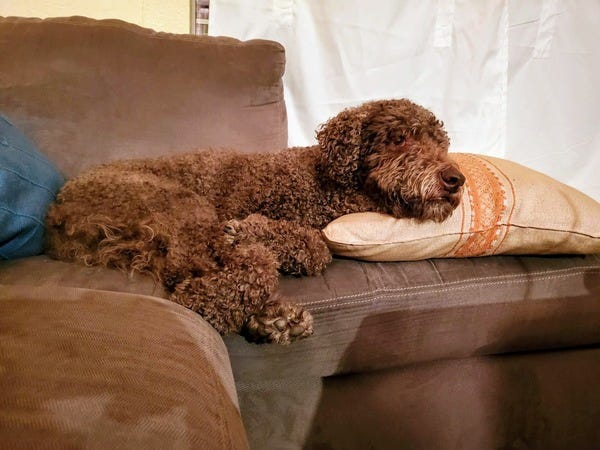 Tuba, who belongs to loyal reader Sele, enjoys snoozing in the sun. Want your pet to be featured? hltr.co/pets
Akhil Sharma never wanted kids. Maybe that was because he felt guilty being healthy alongside a brain-damaged brother and a mentally-ill mother. Or maybe because he felt he had nothing to offer. But at 49 years old, Mr. Sharma realized he "was overflowing with love" for his wife Christine, 50, and "wanted a place to put that love." You'll either love or loathe this well-written, unfiltered account of one couple's pregnancy journey, filled with the author's off-center reflections and hopes that his daughter will grow up to be like Janet Yellen. (22 min)
The Differences Between Processed White Flour And Whole Grain Flour
The pandemic made bakers of many of us, at least for a few months. But during the Great Baking Boom, we unfortunately mostly relied on white flour (King Arthur if we were fancy), whose industrialized consistency lacks nutrition, freshness, and character. In this well-reported article, Dayna Evans asks why we're grinding our own beans at home but not milling our own grain, and why our demands of buy-local-and-fresh have not yet made their way to bran, endosperm, and germ. (30 min)
+ Ms. Evans emphasizes that the few people who are buying wheat (for $1.90 a pound) from local stone mills are almost exclusively white and wealthy.
Thank you for reading this week's issue of The Highlighter. Did you enjoy it? Let me know by clicking on "Yes" or "No" below. I like hearing from you.
To our five new subscribers – Nic, Holly, Alan, Toronzo, Lisa – I hope you find the newsletter a solid addition to your email inbox. To our long-time subscribers (Zaneta! Zaire! Zennifer!), you're pretty great, too. Loyal reader Phil, thank you for sharing the newsletter and getting the word out.
If you like The Highlighter, please help it grow. I appreciate your support. Here are a few ways you can help:
On the other hand, if you no longer want to receive this newsletter, please unsubscribe. See you next Thursday at 9:10 am PT!
Don't miss out on the other issues by Mark Isero
Become a member for $3 per month
You can manage your subscription here.
In order to unsubscribe, click here.
If you were forwarded this newsletter and you like it, you can subscribe here.
Created with Revue by Twitter.