#321: A New Origin Story

Happy Thanksgiving, loyal readers. I am grateful for you.
Last week's issue focused on the exhaustion many of us feel after living in lockdown for the last two years. But yesterday's conviction of Ahmaud Arbery's murderers again confronted us with the profound and unrelenting exhaustion of injustice. "A guilty verdict won't change that," writes Mitchell S. Jackson, who won the Pulitzer Prize for "Twelve Minutes and a Life." "We shout, BLACK LIVES MATTER. BLACK LIVES MATTER. BLACK LIVES MATTER. White lives rule, they rebut. And do it over and over again."
Author Brian Broome writes:
Black America feels these cases in our bones. Because we know that, in this country, this could happen to any one of us or to someone that we love. We know there will be a next one and a next one and a next. Someone's Black child's body held up in the name of justice. I cheer for the justice but I can't cheer for too long before I weep for the loss.
If we know anything about the last few years, and about the last 400 years, we know that progress comes slowly, and at too high a price, and that with progress inevitably comes backlash.
This is abundantly clear if we commit to learning the full and unexpurgated truth of our nation's history. That's why this week, I'm highlighting the publication of The 1619 Project: A New Origin Story, by Nikole Hannah-Jones, and inviting you to read the book with me. Are you interested?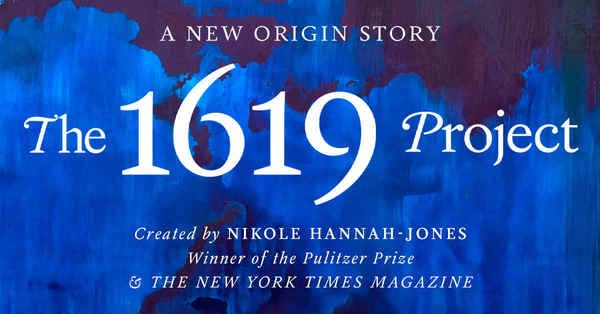 Long-time readers of this newsletter know that I deeply respect Ms. Hannah-Jones and have featured almost every article she's written over the past six years. But I never imagined that Ms. Hannah-Jones would be leading a grand public reconceptualization of our nation's founding. She writes, "I see my work as forcing us to confront our hypocrisy, forcing us to confront the truth that we would rather ignore."
The book arrived on my porch last Tuesday, and so far I've read only the preface, resisting the urge to devour the thing whole.
In the 17-page essay, entitled "Origins," Ms. Hannah-Jones tells the story of how she first learned the significance of the Year 1619. In her predominantly white Iowa high school, she enrolled in a one-semester elective class, "The African American Experience," taught by Mr. Ray Dial, her first and only Black teacher. "Sitting in that class each day," she writes, "I felt as if I had spent my entire life struggling to breathe and someone had finally provided me with oxygen." In one book she read, Ms. Hannah-Jones remembers the text "1619" leaping in three dimensions off the page, mesmerizing her and throwing her off-kilter.
Reflecting on this revelation, Ms. Hannah-Jones realizes the power of what she had discovered, as well as the reasons her previous teachers had hidden this knowledge from her. She writes:
Even as a teenager, I understood that the absence of 1619 from mainstream history was intentional. People had made the choice not to teach us the significance of the year. I was starting to figure out that the histories we learn in school or, more casually, through popular culture, monuments, and political speeches rarely teach us the facts but only certain facts.
Although she criticizes our country's schools, textbooks, and history curriculum, Ms. Hannah-Jones understands that the bigger problem is our "outdated and vague sense of the past" that centers a "mythology of our founders as unimpeachable heroes and our founding as a divine event."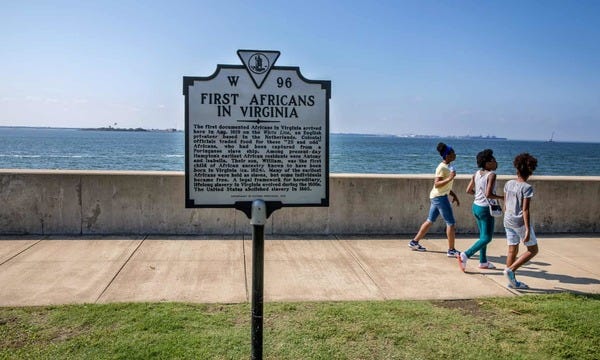 What we need, she argues, is a new origin story, one that begins in 1619 rather than in 1776. She asks, "What would it mean to reframe our understanding of U.S. history by considering 1619 as our country's origin point, the birth of our defining contradictions, the seed of so much of what has made us unique?"
Unfortunately, we know what this reframing would mean and has already meant. It's led to sneering, mean-spirited backlash (and some healthy historiographical debates). It's led to the 1776 Commission. It's led to states banning The 1619 Project from classrooms and libraries.
What it's not led to? People actually reading the work. Sometimes I wonder how many Americans have read the project's original flagship essay. My inner cynic predicts that white progressives will buy the book for anti-racist cred, proudly displaying their $38 hardcover as a trophy on their bookshelf, perfect for their Zoom background, right next to Isabel Wilkerson's Caste.
Despite my skepticism, I'm excited to read the book and share my thoughts with you, if you're interested. As a former history teacher, an admirer of Ms. Hannah-Jones, an avid reader of well-written nonfiction, and a person who wants this country to be more inclusive and democratic, I look forward to engaging with the book's central claim:
We argue that much about American identity, so many of our nation's most vexing problems, our basest inclinations, and its celebrated and unique cultural contributions spring not from the ideals of 1776 but from the realities of 1619, from the contradictions and the ideological struggles of a nation founded on both slavery and freedom.
Loyal readers, what do you think of all this? Are you a Nikole Hannah-Jones stalwart like I am? Are you concerned with how we're teaching history to our children and how we're talking about history in our communities? I'd love to hear your thoughts.
Thank you for reading this week's issue of The Highlighter. Did you enjoy it? Or do you want to go back to the normal format? Let me know by clicking on "Yes" or "No" below.
To our new subscriber Travis, I hope you find the newsletter a solid addition to your email inbox. To our long-time subscribers (Quinnen! Quynh! Quinton!), you're pretty great, too. VIP Peter, thank you for sharing the newsletter and getting the word out.
If you like The Highlighter, please help it grow. I appreciate your support. Here are a few ways you can help:
On the other hand, if you no longer want to receive this newsletter, please unsubscribe. See you next Thursday at 9:10 am PT!
Don't miss out on the other issues by Mark Isero
Become a member for $3 per month
You can manage your subscription here.
In order to unsubscribe, click here.
If you were forwarded this newsletter and you like it, you can subscribe here.
Created with Revue by Twitter.