#293: Homecoming

May must be the month when things get serious in article writing land. Loyal readers, you've come to the right place, because today's issue of The Highlighter is a blockbuster. Honestly, I couldn't decide which article should get top billing. Should it be "Homecoming," the story of an elderly man in a nursing home at the beginning of the pandemic? Or should it be "Magic Actions," the story of the rebellion that followed the murder of George Floyd? Ultimately I had to choose, but both are outstanding, and after all, is there a rule that you can read only one?
Why all this great writing all of a sudden? It could be coincidental. But I'm thinking it has to do with time. It's been more than a year since lockdown, and nearly a year since Mr. Floyd's murder. Thoughtful writing takes space and perspective. I'm appreciative of Davy Rothbart and Tobi Haslett for their pieces — not to mention Clint Smith and Eric Kim, who round off this week's edition. (All men this week? Might be a first.)
+ Guess what happens when authors get featured in Article Club? They go ahead and publish critically acclaimed, best selling books! Next Friday, Brian Broome ("79") comes out with Punch Me Up to the Gods, and Barrett Swanson ("Lost in Summerland") comes out with Lost in Summerland. Is it time for a Highlighter book club, too? 😀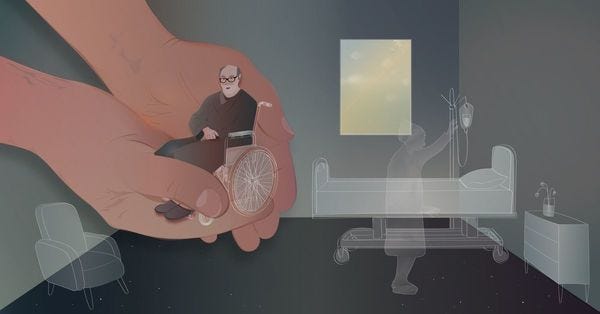 Homecoming: A Family's Nursing Home Dilemma
A little more than a year ago, Davy Rothbart's 83-year-old father lived in a nursing home in Michigan after suffering a stroke. Though cogent and stable, he required consistent care to prevent bedsores and to monitor his condition. But the world was changing. A mysterious virus was spreading. Old people were dying. And Mr. Rothbart had a decision to make: Should he get his dad out of there and take him home?
In this poignant essay, Mr. Rothbart takes us back to last March and lets us get to know his mom and dad and 20-month-old son Desi. We're brought into his world: his family and friends who band together and do their best, despite limited resources and limited information. This is a story about parenthood, mortality, and the power of family. (61 min)
Magic Actions: Looking Back On The George Floyd Rebellion
Tobi Haslett: "It's vital to insist, over the drone of an amnesiac discourse, that last year's spate of protest was propelled, made fiercely possible, by massive clashes in the street — not tainted or delegitimized by them, nor assembled from thin air. Those threatened by that fact will work to wipe it from our minds. But something has changed in America; something is still pulsing beneath the carapace of party politics. The rebellion didn't just release a jet of fury, but lodged the riot, without apology, in the very rhythm of political life." (46 min)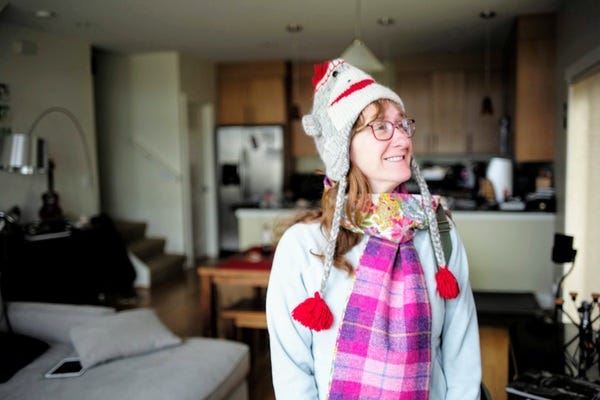 Here's Chris, clad in her favorite monkey hat, looking out into the distance, beaming with gobs of happiness and pride that she's a loyal reader of The Highlighter.
Clint Smith visits Blandford Cemetery in Virginia, where 30,000 Confederate soldiers are buried, to investigate why some white people cling to the lie of the Lost Cause. "So much of the story we tell about history is really the story we tell about ourselves," Mr. Smith writes. "It is the story of our mothers and fathers and their mothers and fathers, as far back as our lineages will take us. But just because someone tells you a story doesn't make that story true." (25 min)
When I Came Out To My Parents, Kimchi Fried Rice Held Us Together
I like coming out stories, and I like food, so this tender piece by cooking writer Eric Kim captured my attention from the start. Telling his conservative Korean parents wasn't easy — his mom lost her religion, her dad said he'd lost his son — but Mr. Kim focuses instead on the kimchi fried rice his mother makes him at 3 a.m. "It meant something to me that in the midst of my mother's grave disappointment, somehow she and I could seek refuge in this one thing that would never change. I was still her son and she was still my mom, and kimchi fried rice — something only she could make — was still my favorite thing to eat in the entire world." (10 min)
+ Reader Annotations: I'm pleased that several of you appreciated last week's essay by Tyrone Fleurizard. "Wow," loyal reader Lisa wrote, " 'How To Name Your Black Son In a Racist Country' was a master class in content and technique." My thoughts, too, Lisa — thank you for sharing.
Thank you for reading this week's issue of The Highlighter. Did you enjoy it? Let me know by clicking on "Yes" or "No" below. I like hearing from you.
Also, to our four new subscribers — Scott, Danielle, Elizabeth, and Kennidy — I hope you find the newsletter a solid addition to your email inbox. To our long-time subscribers (e.g., Vinci! Tamyra! Frederik!), you're pretty great, too.
If you like The Highlighter, please help it grow. I appreciate your support. Here are a few ways you can help:
On the other hand, if you no longer want to receive this newsletter, please unsubscribe. See you next Thursday at 9:10 am PT!
Don't miss out on the other issues by Mark Isero
Become a member for $3 per month
You can manage your subscription here.
In order to unsubscribe, click here.
If you were forwarded this newsletter and you like it, you can subscribe here.
Created with Revue by Twitter.