#284: One Year Gone
One year ago today, the World Health Organization declared COVID-19 a global pandemic, the NBA called off its season, Tom Hanks announced he had contracted the virus, and schools across the country began to close. For the most part, over the past year, I haven't featured too many articles about the pandemic, mostly because we've been inundated with them. But today feels different. It's time to read and reflect. I'm dedicating this week's issue to the 529,000 people who have died, to the time we have lost, to the ways our lives have changed, and to the resilience we have mustered. Thank you very much for being part of this reading community and for motivating me to keep publishing this newsletter every week.
Though all four pieces are worth your attention, if you have time to read just one article this week, I recommend "The Lost Year: What The Pandemic Cost Teenagers." It will spark emotion in you.
+ A big shoutout to VIP Lopez, who took seriously my call to spread the word about the newsletter and singlehandedly convinced seven fine people to subscribe! Let's please welcome Ruth, Paula, Yeshi, Aaron, Amanda, Maria, and Alex, along with new subscribers Emily and Braydon. Loyal readers, can you beat Lopez? (She says you can't.)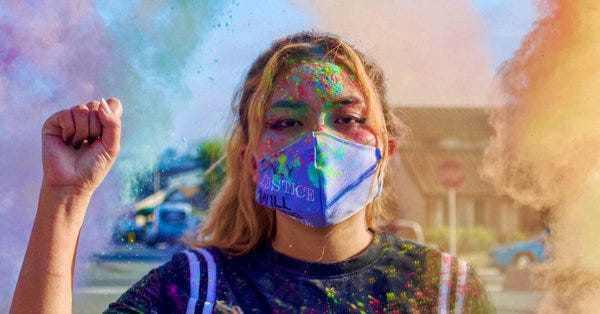 Coming Of Age In A Pandemic Year
Last June we lamented that high school seniors would not get to celebrate their graduations in person. But millions of seniors this year have not stepped foot in school at all. Their experience has been "gloomy," "lonely," and "depressing." But in this exhibit, young people demonstrate their ability to reinvent themselves and shape their realities through art.
Through images, words, videos, text messages, and poetry, they answer the question, "What has it been like to be a teenager during the first year of a historic pandemic?" In their pieces and artists' statements, they share what they've lost, and what they've found. Hannah Blue, 17, writes, "I was forced to be alone with myself, which led me to create art and poetry with deeper meaning than I had ever been able to create before." (15 min)
+ Thank you to VIP Tony for sharing this piece with me.
Lost Time: Ten Stories Of The Pandemic
I encourage you to take time and read these closely. In this poignant set of profiles, which acknowledge the "suspended state of mind" we've felt, you'll meet a college freshman who has never seen his campus, an engaged couple who keeps putting off their wedding, a massage therapist whose patients just want to be touched, a DJ who misses the closeness of the crowd, a 102-year-old man who's sad he's survived his second pandemic, and a hospice chaplain who helps people die through a mask and a pane of glass. And then there's Emilia, who doesn't want to turn 9. "I didn't really get to be 8." (15 min)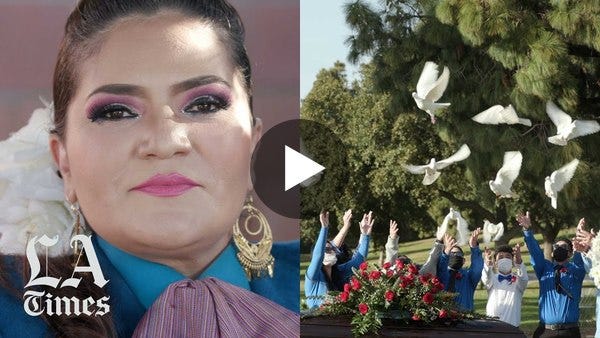 "Work is a blessing," says Maricela Martinez of Mariachi Lindas Mexicanas. "But I wish we wouldn't be living this. I wish none of this would have ever happened."
The Lost Year: What The Pandemic Cost Teenagers
Up until this year, Kooper Davis charmed his teachers, got straight A's, and played quarterback for the Hobbs High School football team in New Mexico. He had his sights set on Stanford. But the state's protracted shutdown canceled the football season, which led Kooper's mental health to decline. In this heartbreaking article, Alec MacGillis argues that closed schools have led not only to losses in learning. They've also caused soaring rates of anxiety, depression, and suicidal ideation. That's not the case, though, in Texas, just a 10-minute drive away, where schools have remained open all year. (42 min)
Tears, Sleepless Nights, And Victories: How First-Year Teachers Have Coped
If you're a teacher (like many of you!), you remember your first year. Every teacher does. It's equal parts exhilaration and desperation. No matter how much you fail, though, you see your students in front of you, and you're reminded why you chose the profession. But this year, being a new teacher has meant never meeting your students, teaching to blank screens, creating projects that don't get turned in, and trying to support your students from a distance. (17 min)
+ I invite you to join Article Club this month, where we'll discuss "A Lonely Occupation," by Francesca Mari. Featured in January, the article explores how real-estate developers hire homeless Black people to guard vacant homes in gentrifying neighborhoods while they're being renovated. Interested? Here's more information.
Yet again, you have exceeded expectations. Thank you for reading another issue of The Highlighter. I hope you enjoyed it. Let me know what you thought by clicking on one of the thumbs below.
Also, to our new subscribers Ruth, Paula, Yeshi, Aaron, Amanda, Maria, and Alex, Emily, and Braydon, I hope you find the newsletter a solid addition to your email inbox. Also, thank you to VIP Philippe for getting the word out!
If you like The Highlighter, please help it grow. I appreciate your support. Here are a few ways you can help:
On the other hand, if you no longer want to receive this newsletter, please unsubscribe. See you next Thursday at 9:10 am PT!
Don't miss out on the other issues by Mark Isero
Become a member for $3 per month
You can manage your subscription here.
In order to unsubscribe, click here.
If you were forwarded this newsletter and you like it, you can subscribe here.
Created with Revue by Twitter.