#281: Inheritance

Happy Thursday, loyal readers! If you're a long-time subscriber of this newsletter, you know that I like sharing articles from a variety of publications. But sometimes, there's just no way I can skip a blockbuster from The New York Times or The Washington Post. Such is the case this week, with The Atlantic's Inheritance, "a project about American history, Black life, and the resilience of memory." Today's lead article, "American Democracy Is Only 55 Years Old" — which celebrates the struggle of Black Americans to secure voting rights but warns that progress is tenable — is my favorite piece so far from the collection. Please let me know what you think of it.
Also in this week's issue, you'll find articles comparing the Civil Rights Movement and Black Lives Matter, investigating the rise of eating disorders among men, and exploring the dangers of the popular Brazilian Butt Lift. Please enjoy!
+ In case you're a maybe for this month's Article Club discussion, you might want to check out this interview with Theodore R. Johnson, author of "How the Black Vote Became a Monolith." Loyal reader Sarai and I got to ask Dr. Johnson some questions about voting and political engagement among Black Americans. We'll be discussing his piece on Feb. 28 at 2 pm. Let me know if you're in!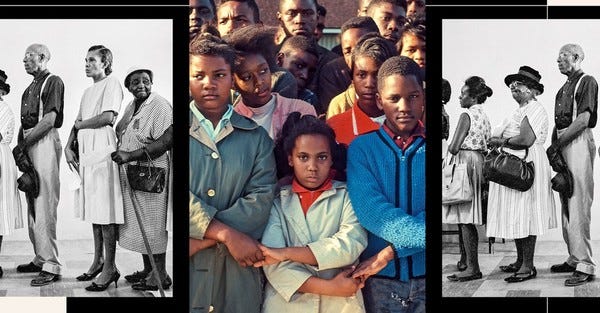 American Democracy Is Only 55 Years Old
This outstanding essay by Vann R. Newkirk II about the Voting Rights Act and the fragility of democracy begins with a touching letter to his mother, who was born a year before the law's passage and who died late last year.
"Democracy is central to America's idea of itself, but that idea had never been a reality until the VRA. You always reminded me of the precariousness and the novelty of this experiment — of the fact that I had been granted a franchise that wasn't even yours when you were born. In school textbooks, the black-and-white photographs of civil-rights protests suggested that America had vanquished its demons ages ago. But you told me that the people marching in those photographs were the people who sang in the choir at church and who brought chitlins to family reunions. We were taught that Black folks had been granted a fundamental right in perpetuity, but in truth the boundaries and contours of that right were in flux and constantly being negotiated, renegotiated, and sometimes overruled.
"You lived 56 years. You witnessed the entirety of what might be considered genuine democracy in America. I fear that era might not last much longer." (29 min)
From Civil Rights To Black Lives Matter
From Emmett Till to Trayvon Martin, sociologist Aldon Morris compares the origins and strategies of the Civil Rights Movement and Black Lives Matter, emphasizing the importance of emotions — in particular, anger and love — in transforming mental attitudes and achieving social change. Espousing an "indigenous perspective theory," which suggests that the power of social movements comes directly from within oppressed communities, Prof. Morris predicts that Black Lives Matter's decentralized approach, and its commitment to inclusive leadership, may outlast today's sophisticated methods of surveillance and repression. (19 min)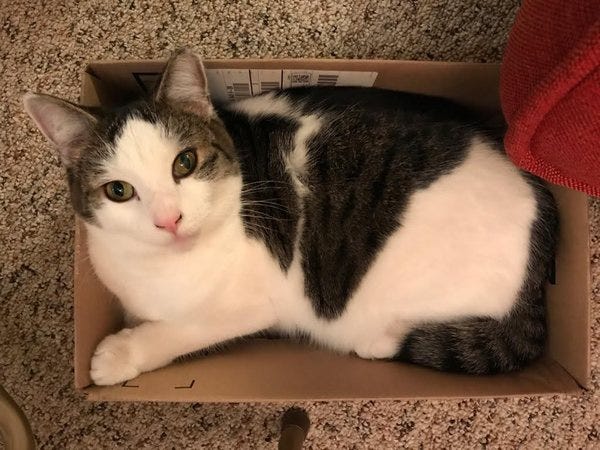 Lucy, who belongs to loyal reader Erin, likes to spend time in boxes as much as possible. Want your pet to appear in The Highlighter? hltr.co/pets
This Is What It's Like For Men With Eating Disorders
One unfortunate (and ironic) effect of greater gender equality is that cisgender men now face harmful body image expectations once reserved for women. The combination of TikTok, Instagram, Captain America, and Black Panther have pushed teenagers and young men to exercise multiple times a day, call the gym their home, and eat salads without dressing for lunch. As a result, men make up 1 in 3 cases of anorexia and bulimia, an all-time high. (18 min)
+ For more articles on dieting, body positivity, and fat shaming, check out this Highlighter Spotlight.
Brazilian Butt Lift: Behind The World's Most Dangerous Cosmetic Surgery
"The quest was simple," author Sophie Elmhirst writes, "Melissa wanted the perfect bottom." For Melissa and thousands of women worldwide, the only solution was the BBL, which redistributes fat from various parts of the body and injects it into the buttocks. " 'If you've had a BBL, it's like you've already edited your body in real life,' Melissa said, 'so you don't have to edit your pictures.' " But looking like Kim Kardashian means confronting one of the most dangerous cosmetic surgeries out there, plus even if you survive, "the body remains alive, organic, unpredictable." (25 min)
Look at you, making a great choice! You chose to read The Highlighter instead of watching Bridgerton again from the beginning. I hope you enjoyed this week's issue. Let me know what you thought by hitting reply or by clicking on the thumbs below.
Also, let's welcome our reading community's four new subscribers, Arbee, James, James, and Cali. I hope you find the newsletter a solid addition to your email inbox.
If you like The Highlighter, please help it grow. I appreciate your support. Here are a few ways you can help:
On the other hand, if you don't like that this newsletter arrives in your inbox every week, please unsubscribe. See you next Thursday at 9:10 am PT!
Don't miss out on the other issues by Mark Isero
Become a member for $3 per month
You can manage your subscription here.
In order to unsubscribe, click here.
If you were forwarded this newsletter and you like it, you can subscribe here.
Created with Revue by Twitter.