#267: America In Line

This time next week, loyal readers, we will have had the election, and who knows, maybe we'll even know our next president. This week's lead article, "America In Line," captures the enthusiasm and anxiety of the moment, with interviews of Americans in six states ready to cast their votes. If you're practicing a no-election-news pledge in order to save your sanity, like many of my friends, fast scroll down to "Mama's Babies," a heartwarming short film. Then take in this week's pet photo before enjoying two pieces featuring the powers of our mind and the delights of this fall season.
+ I'm very proud of the reading community we're building over at Article Club, where we read, annotate, and discuss one great article every month. We just concluded our 10th article, focusing on "Miranda's Rebellion," by Pulitzer Prize-winning reporter Stephanie McCrummen, who generously answered our questions in a podcast episode. If you're interested in deepening your reading experience with other kind, thoughtful people, please let me know, and I'll share with you the details and a sneak peek of November's selection.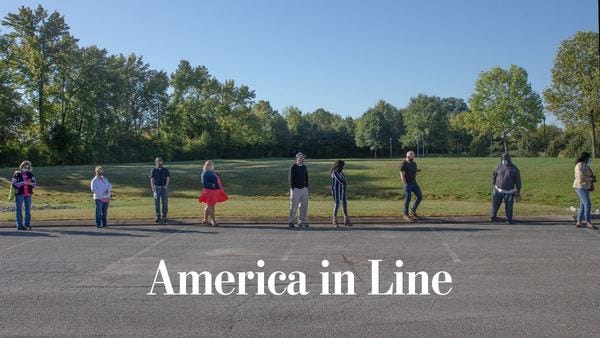 More than 75 million Americans have already voted, a huge increase from the last presidential election. While many of us have chosen to mail or drop off our ballots, the voters featured in this article — from Houston, Albuquerque, Chattanooga, Sarasota, Atlanta and Columbus — opted for the old-fashioned route of waiting in line.
To pass the time, they listened to podcasts, texted their friends, scrolled through Twitter, read the newspaper, and if they were advanced, brought multiple phones, for battery's sake. In Houston, Goya Escalante said she "wanted the satisfaction" of voting in person. "I want to feel America." In Albuquerque, 18-year-old Alfred Achusim voted for the first time and said, "It's a duty. It's a privilege." (20 min)
+ U.S. Government teachers, this article might be perfect weekend reading for your students. It does a good job exploring the diverse beliefs and experiences of Americans from key swing states.
In this touching tribute, filmmaker Adrian Burrell tells the story of his 94-year-old grandmother, the "Queen of San Pablo," who has lived in West Oakland since 1945, ever since migrating from Jim Crow Louisiana. Despite the losses of gentrification and the gravity of white supremacy, Grandma does not dwell on the negative. Rather, she focuses on family and on the joys of her 16 children, 58 grandchildren, 112 great-grandchildren, and 158 great-great-grandchildren. Mr. Burrell says, "Long after I'm gone, and even longer after my grandma, our people are going to have something to look back on." (11 min)
+ This weekend, call your mom, dad, aunt, uncle, or grandparent, and ask them to tell you a story.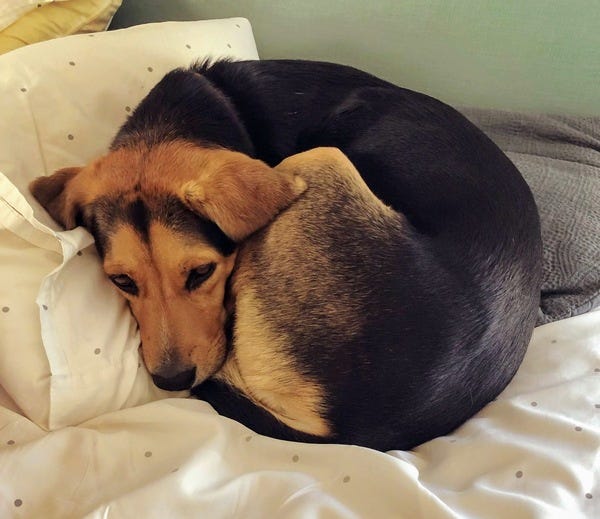 Eleanor, who belongs to loyal reader Tess, is a bit sad that she has not been featured in this newsletter since Issue #124. But she implores you all to vote if you haven't yet. Want your pet to appear in The Highlighter? hltr.co/pets
A long time ago, I was going through a rough patch, and a good friend reminded me that the only reality we experience is the one we create with our thoughts. Hogwash, I thought. But apparently, the process of manifesting has taken hold, especially among young people, who maintain that if you practice positive thinking and script your dreams, your crush will text you back, or you'll land a great job, or Lorde will drop a new album. (Bonus points if you manifest on TikTok.) Don't mind the research that says that reaching your goals takes effort. (14 min)
How America Invented The White Woman Who Just Loves Fall
Nobody knows whether kids will trick or treat this weekend or if families will convene for Thanksgiving, but once thing's for sure: Fall is upon us, and that means white women will enjoy their pumpkin spice. In this playful-yet-serious article, Hazel Cillis connects the dots of this phenomenon all the way back to New England, to the myth of Thanksgiving, the role of 19th-century influencer Sara Josepha Hale, the rise of domesticity and agritourism, and later contributions by Martha Stewart and the romanticism of Gilmore Girls. You don't like cinnamon, nutmeg, and cloves just because. (14 min)
You've reached the end of this week's issue. Thank you for reading The Highlighter. Please congratulate yourself for getting some good reading done. Let me know what you thought about today's issue by hitting reply or by clicking on the thumbs below. I'm grateful for your feedback.
Also, let's welcome our community's 7 new members, including Yudy, Gage, Shining, Emma, Fish, and Helene. I hope that you find this newsletter a solid addition to your Thursday email inbox. (Sivan, Martha, and Camille: Thank you for getting the word out!)
If you really like The Highlighter, please help it grow and get better. I appreciate your support. Here are a few ways you can help:
Send today's issue to a friend and encourage them to subscribe. Please ask yourself: Who might like getting the newsletter?

Buy me a cookie so my sugar levels stay high enough to read. (Big thanks to Tali and an anonymous donor for your six!)

Formalize your support and become a VIP for $3 a month. (VIPs have been clamoring for The Highlighter Hoodie.)
On the other hand, if this newsletter is cluttering your inbox, please unsubscribe. See you next Thursday at 9:10 am PT!
Don't miss out on the other issues by Mark Isero
Become a member for $3 per month
You can manage your subscription here.
In order to unsubscribe, click here.
If you were forwarded this newsletter and you like it, you can subscribe here.
Created with Revue by Twitter.