#261: Climate Migration Will Reshape America

Happy Thursday, loyal readers, and thank you for opening today's newsletter. I appreciate your readership, whether you're new to The Highlighter (hi Dorothy!) or not-so-new (hi Heidi!). This week's lead article, which focuses on the climate crisis in our country, describes in detail how warming will result not only in more (un)natural disasters but also in mass migration of Americans.
If gloomy science isn't for you, I recommend today's other pieces, including a powerful personal essay by Jaquira Díaz, an illuminating look at the challenges of voting-by-mail, and a worrisome investigation into the surveillance of Black Lives Matter activists. Please enjoy. I hope that you'll find at least one article that piques your curiosity, and have a great week!
+ Article Club is in its ninth month (already?), and I invite you to check it out if you want to read more deeply and connect with fellow loyal readers. This month, we're discussing "I Went to Disney World" (#254) by Graeme Wood. Find out more information here.
+ Thank you for all the kind emails about last week's issue. If you like the newsletter and want to leave a kind word, please do!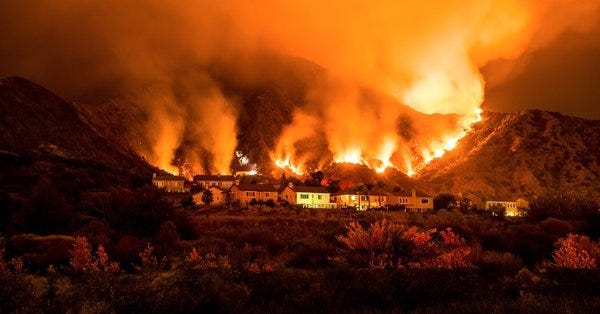 Climate Migration Will Reshape America
The eerie orange skies in the Bay Area, the catastrophic wildfires out West, and the devastating hurricanes in the South have left many of us paralyzed with despair about the severe effects of climate change. But the worst is yet to come. In this solemn article, environmental reporter Abrahm Lustgarten explains that within the next 20 years, 13 million Americans will migrate, mostly from the South, to escape the dangers of global warming. The poor and elderly will be left behind.
Some predictions: Buffalo will feel like Tempe; 700,000 people will leave the Bay Area, New York will build a $100 billion sea wall, many beaches will disappear; Phoenix and Atlanta won't have enough water; we'll have another Dust Bowl; and the housing market will collapse.
Despite that frightening forecast, not all is doom and gloom. About half of Americans, for example, now rank climate as a top priority, a huge increase since 2016. That trend extends to conservatives, with one in three now believing that global warming "should be declared a national emergency." The question remains: Are we going to do anything about it? (27 min)
America Is In Crisis. But Some Of Us Have Never Known Any Different.
Jaquira Díaz: "I am the Black daughter of a white woman, which means that in my family tree there are colonizers as well as colonized people, and I carry this violence in my body. I see it in the mirror every day. Whether or not people read me as Black, I'm a racialized person: I'm Latina; my first language is Spanish; I have an accent. I'm also a gay woman with a white transmasculine fiancé. The truth is, some of us have never felt safe. Some of us have always been navigating systems of power and oppression in our homes, in our workplaces, in our schools, so we were not surprised by the last presidential election, because while some of America woke up to reality in November 2016, or even just last month, the rest of us have been waking up in this America since we were born or arrived here." (8 min)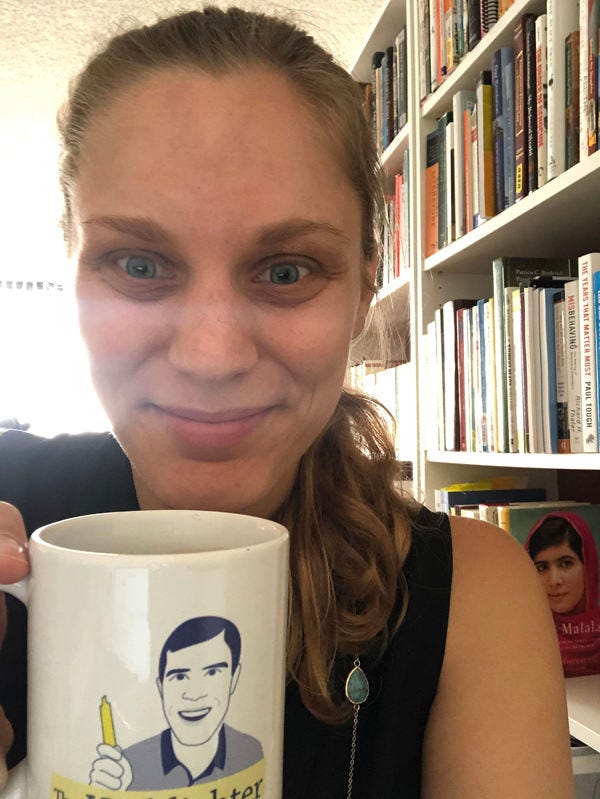 Here's VIP Elise proudly drinking her inaugural tea with her fancy new Highlighter mug. (She receives extra points for having Malala and Paul Tough's books in the background.) Are you secretly jealous?
If voting-by-mail fails in November, it won't be the fault of the U.S. Postal Service or incompetent state and local elections boards. According to Jesse Barron in this well-reported article, the problem lies not with government but with private corporations like Runbeck Election Services, a Phoenix-based ballot printer. Can they print the ballots fast enough? Will the $500,000, 20-foot-long W+D BB700-S2 inserter put the right ballots in the right envelopes? Will the AgilisDuo machine verify voter signatures correctly? Mr. Barron says maybe. (18 min)
How San Francisco Police Surveillance Closed In On BLM Protests
Next time you're out and about in San Francisco, know that the police have access to 2,400 cameras if they think you've committed a crime. But thanks to the Surveillance Oversight and Transparency Ordinance, passed last year, city departments can't introduce new methods of surveillance without following specific procedures. Unfortunately, that didn't stop the Union Square Business Improvement District from giving the police unfettered access to its 375 cameras during the Black Lives Matter protests in June, causing some activists to have second thoughts about exercising their First Amendment rights. (8 min)
Thank you very much for reading yet another issue of The Highlighter. Let me know what you thought by hitting reply or by clicking on the thumbs below. I'm grateful for your feedback.
Also, let's welcome our community's 8 new readers: Water, Tobi, Anne, DW, Jacky, Leslie, Dorothy, and Lynette. (Thank you, Marcella, for getting the word out!) I hope that you find this newsletter a solid addition to your Thursday email inbox.
If you really like The Highlighter, please help it grow and get better. I appreciate your support. Here are a few ways you can help:
Send today's issue to a friend and encourage them to subscribe

Keep my article-finding and reading alertness levels high by buying me a coffee, like loyal readers Mil and Summer

Become a VIP member and receive surprise perks and my undying, unrelenting praise
On the other hand, if this newsletter is cluttering your inbox, please unsubscribe. See you next Thursday at 9:10 am PT!
Don't miss out on the other issues by Mark Isero
Become a member for $3 per month
You can manage your subscription here.
In order to unsubscribe, click here.
If you were forwarded this newsletter and you like it, you can subscribe here.
Created with Revue by Twitter.