#241: The Kitchen Is Closed

Thank you for opening today's issue, loyal readers, and I hope that all of you are holding up. Is this your first issue? Welcome. Is this your gazillionth issue? Welcome back. I'm happy you're here.
This week's lead article, a chef's account of the closing of her restaurant, is the first piece I'm highlighting that is related to the novel coronavirus. I highly recommend it. You won't see The Highlighter transitioning to all-COVID, all-the-time, but if an article offers perspective and is written well, you'll find it here.
If you subscribe to this newsletter to escape current events, rest assured, the other selections will please you. You can learn about an Alaska Native teacher's efforts to decolonize her classroom. Or you can worry about the state of marriage. Or you can decide, once and for all, whether Marie Kondo sparks joy. Read one or all of these articles, and hit reply to share your thoughts. Please enjoy!
+ I'm excited to announce that Article Club will be reading and discussing "Lost in Summerland," by Barrett Swanson, starting this Sunday. This is easily one of my favorite articles so far this year. Also, Mr. Swanson will be participating in one of our discussions on May 24. Join us!
My Restaurant Was My Life For 20 Years. Does The World Need It Anymore?
The pandemic forced chef Gabrielle Hunter to shutter Prune, the bistro she opened in the East Village in 1999. In this well-written essay, Ms. Hunter eulogizes her restaurant, gets real about the challenges of the industry, and waxes sentimental, then existential, on whether any of our pursuits in life deserve to exist after they're gone. Toward the end, Ms. Hunter's emotions mount, with anger and sadness and nostalgia all mixed together, as she laments not only the end of Prune, but also the neighborhood she loved. (26 min)
+ Thanks to loyal reader Rosa for recommending this article. You can also listen to the piece here.
The Alaska Native Teacher Upending The Legacy Of Colonial Education
Growing up in the 1970s, Alaska Native Josephine Tatauq Bourdon attended a colonial school designed to erase her Inupiaq values and accelerate assimilation into Western culture. But ever since she became a teacher, Ms. Bourdon has resisted capitalist constructs of education, building classrooms and curricula rooted in collective and environmental responsibility, with an emphasis on stewardship of the land. "The land is our life. The land is our livelihood. It feeds our bodies, minds, spirit, and soul." (16 min)
+ One of my favorite articles on education is about how the Inupiat people rebuilt their curriculum.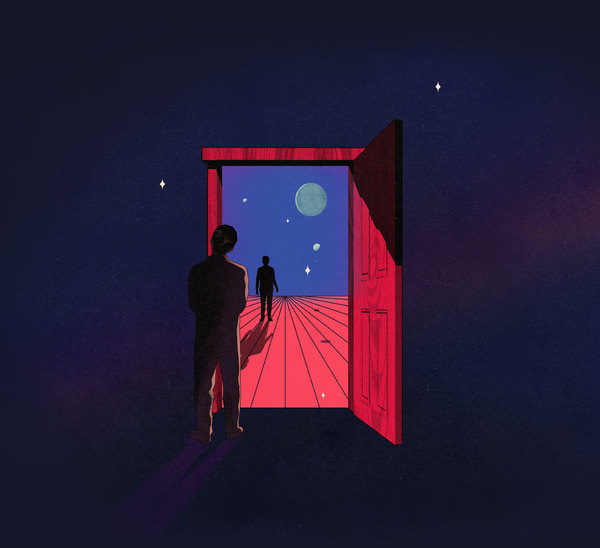 What do you do when your big brother suffers a brain injury and starts hearing voices? If you're Barrett Swanson, author of "Lost in Summerland," May's Article Club pick, you take him to Lily Dale, New York, where every year, 20,000 psychics and mediums gather to perform readings, conduct seances, and build community. Join the discussion! articleclub.org
Marriage Is Dead, Sure. But Don't Worry. Pair-Bonding Is Alive And Here To Stay.
Around the world, marriage is plummeting, striking fear into proponents of the conservative nuclear family. But according to Manvir Singh, marriage's decline is nothing to fret over. People are still coupling up, cohabitating, and rearing children. With women gaining power, and states extending rights to domestic partnerships, cohabitation is "like a subscription," whereas the institution of marriage is reserved "for love." (18 min)
+ Maybe the nuclear family was a big mistake in the first place, argues David Brooks in Issue #230.
Marie Kondo Cleaned House. Now She Wants To Fix Your Whole Life
Longtime subscribers, did you think that I'd forgotten about Marie Kondo? Not a chance. The "millennial doyenne of decluttering" sparks such joy (and opposing emotions), I'd be remiss if I didn't keep you posted about Ms. Kondo's new plans to tidy up office spaces (and small towns), expand to executive coaching, and sell you items to promote her minimalist lifestyle, like this $75 tuning fork, meant to restore balance, on her website. (15 min)
+ More Marie Kondo? Sure: #51, #65, #175.
+ Reader Annotations: Loyal reader Katherine read last week's lead article, "Childhood In An Anxious Age," with great interest:
As someone relatively new to parenting, and someone who is a bit anxious (example: I hate when my sleeves are too far down on my wrists and I'm far too willing to accommodate when my 1-year-old is upset that her sleeve is slightly wrong…I know how crazy this is), I was really interested. The statistics at the beginning were terrifying and upsetting, but the article got more upbeat as it went on, suggesting totally normal solutions. I think it boils down to what I've always thought: We need a more family-friendly society. Happy adults, happier kids. If only America could take some lessons from Scandinavians in this area (and others).
Thank you for reaching out and sharing your thoughts! Loyal readers, don't be shy. Hit reply.
You did it again! Thank you for reading this week's newsletter. Let me know what you thought by hitting reply or by clicking on the thumbs below. Also, let's welcome our community's six new subscribers Leslie, Ramsey, Listory, Shreya, Rebecca, and Bill. I hope that you find this newsletter a solid addition to your Thursday email inbox. (Thank you, loyal reader Joycelin, for the referrals!)
If you really like The Highlighter, please help it grow and get better. I appreciate your support. Here are a few ways you can help:
On the other hand, if the newsletter is not a great match for your inbox, please unsubscribe. See you next Thursday at 9:10 am!
Don't miss out on the other issues by Mark Isero
Become a member for $3 per month
You can manage your subscription here.
In order to unsubscribe, click here.
If you were forwarded this newsletter and you like it, you can subscribe here.
Created with Revue by Twitter.