#199: Food Apartheid

Welcome to The Highlighter, loyal readers, and thank you for opening this week's issue. Today's lead article focuses on how we distribute food in our country in a systematically unequal way — and what we need to do to increase access to food. You'll find out that opening more supermarkets in food deserts, or closing fast food restaurants in food swamps, will not be enough.
Also, feel free to explore today's other excellent pieces, ranging from how corporations weirdly advertise for Pride, how too many college students are homeless, and how a simple hike in the woods can quickly change our life's trajectory. Please enjoy!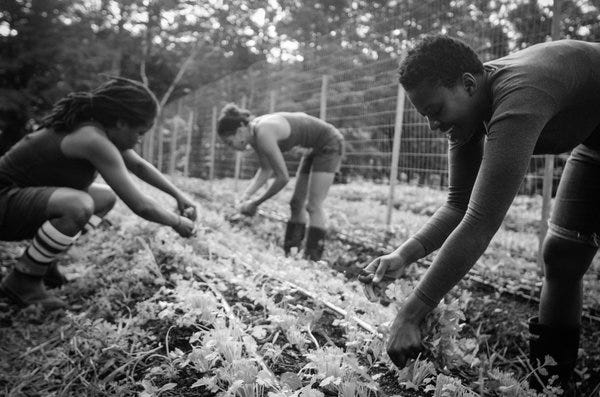 Bringing People Of Color Back To The Land
We live in a country where white people own 95 percent of the farms, while Latinx people own 3 percent and African Americans own 1 percent. Consider that Latinx people do 80 percent of the farm work, or that 100 years ago, Black people owned 14 percent of the farms — or that in South Africa, people of color own 27 percent.
According to food sovereignty activist Leah Penniman, owner of Soul Fire Farm and author of Farming While Black, our organized system of unequal food distribution amounts to food apartheid, which relegates white people to food abundance and people of color to food scarcity.
The only way to rectify this inequity is to bring people of color back to the land, reclaiming a connection severed by centuries of trauma and unjust governmental policy. Ms. Penniman says, "The work of Soul Fire is about reaching back over those four hundred years of oppression and rediscovering our noble and dignified heritage of belonging to the land. We're reviving that ancestral wisdom, defining a relationship to the land based not on the ways we've been harmed, but on the ways that our ancestors achieved dignity and sustainability."
Farming may not be for everyone, Ms. Penniman says, but owning land leads to freedom, justice, and equality. As Fannie Lou Hamer said, "When you've got 400 quarts of greens and gumbo soup canned for the winter, nobody can push you around or tell you what to say or do." (41 min)
Increasingly Humiliating Attempts of Brands To Cater To LGBTQ Customers
Now that gay people can get married and run for president (as long as they have traditional values and served in Afghanistan), corporations are more excited than ever before to sponsor parades and other Pride events this month. Comedian George Civeris comments on "late-stage Pride advertising," in which companies no longer try to stand for social justice (and fail, then get criticized for their greed) but rather strive for visibility "for visibility's sake." Stonewall, after all, was a very long time ago. (6 min)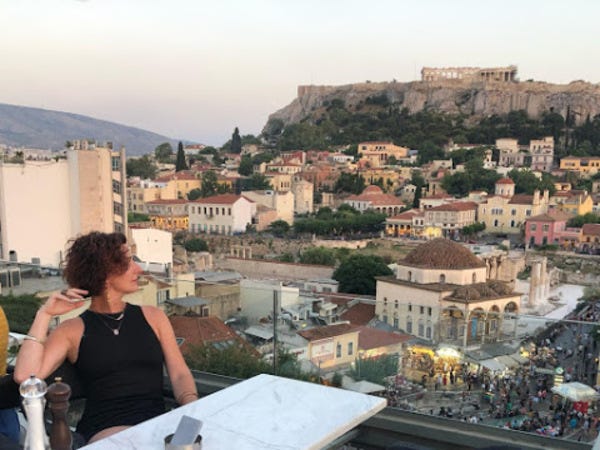 Here's loyal reader and VIP member Abby, contemplating the joys of life, as she gazes out at the Acropolis in Athens. You too can enjoy the perks of being a member of The Highlighter. hltr.co/membership
Housing Costs, Not Tuition, Is The Biggest Problem for College Students
When presidential candidates debate their plans to make college more affordable, by focusing on free tuition and debt forgiveness, they're missing the point: that 1 in 5 community college students — nearly 1 million people in all — experienced homelessness this past year. Reporter Claire Bryan reminds us that housing costs, not tuition, prevent the majority of college students from advancing their academic pursuits. (10 min)
+ Read more on homeless students: #104 and #191.
This brilliant, well-written essay by Josh Potter is about growing up, leaving home to find yourself, recognizing the sacrifices your parents made, and considering the possibilities of life. It is also about how our lives can transform in an instant, how a hungry wood tick, seeking its own next stage of life, can latch itself on your dad's leg while he's hiking in the hills of Montana, giving him Rocky Mountain Fever, killing him on the day of your college graduation. (13 min)
It is a tragedy that you have reached the end of this week's issue of The Highlighter. Use the thumbs below to tell me what you thought. Also, please welcome new subscribers Tushar and Noah. Hope you find that the newsletter is a good match for you!
If you like The Highlighter, please help it grow and get better. I would appreciate your support. Here are a few ways you can help:
On the other hand, if this newsletter is not right for you, please unsubscribe. See you next Thursday at 9:10 am for Issue #200!
Don't miss out on the other issues by Mark Isero
Become a member for $3 per month
You can manage your subscription here.
In order to unsubscribe, click here.
If you were forwarded this newsletter and you like it, you can subscribe here.
Created with Revue by Twitter.