#133: The Lottery Hackers

Hello and welcome to The Highlighter #133! This week's issue includes great pieces on lottery hackers, first-generation college students, weighted blankets, Alaskan women, and Chinese millennials. Please enjoy!
Also: This month, we're taking an in-depth look at college. Every issue will include at least one article or podcast episode about college. If you missed last week's issue, I encourage you to go back and check out "Who Gets To Graduate?" and "Three Miles." After you do all that, join Anne and me over at the podcast, where we want to hear from you.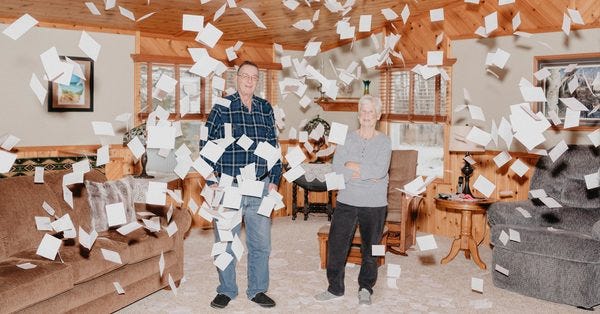 Jerry and Marge Selbee are delightful retirees from down-home Michigan who have worked hard every day their whole lives to put their six kids through college. Now they're ready to game the lottery and win millions of dollars. If you've ever dreamed up money-making schemes, or if you like mathematical thrillers pitting grandparents against MIT students, this one's for you. This is my favorite article so far this year. Big thanks to loyal subscriber Jessica for recommending it. (If you find a great article that you'd like to nominate for publication, please do!)  ⏳⏳⏳
I'm First: Stories and Videos From First-Generation College Students
This collection of firsthand accounts by first-generation college students is an excellent resource for educators who care about promoting a college-going culture. After all, stories matter; they help change the narrative; they tell the real truth. Thank you to loyal subscriber Gia for this submission. ⏳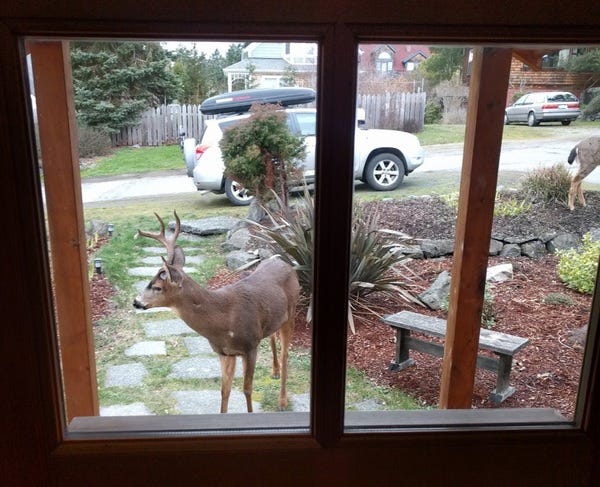 Deery, who belongs to loyal subscribers Ben and Julie, would like to come inside the house. Do you have a pet who should appear in The Highlighter? Nominate your pet today at j.mp/nominatepet.
The Seductive Confinement of a Weighted Blanket in an Anxious Time
Here's another nugget of greatness by Jia Tolentino (#73, #89), whose stress and insomnia drive her to test out the Gravity Blanket, which claims its "deep touch pressure stimulation" increases serotonin and melatonin, promoting calm and relaxation. After her initial skepticism, Ms. Tolentino quickly falls under the blanket's spell. (As an owner of the 15-lb. version—thank you, Peter!—I can attest that she's not alone.) ⏳
Courage Before the Thaw: Six Alaskan Women Facing Climate Change
In this collection of short profiles of six Alaskan women, author Miranda Weiss writes, "Most Americans think that global warming will harm other people but not themselves. In Alaska, the consequences are already personal." Ms. Weiss writes plainly, allowing the women's experiences to emerge front and center. ⏳⏳
Anne-otations: China's "Restless Generation" | KQED Forum
Here at The Highlighter, we've talked about adult-delaying millennials quite a bit (#114, #124). We've even touched on generation iGen, known for their screen addictions. It's time we learn about the Strawberry Generation (Chinese people born after 1990) and how they are flipping what it means to be Chinese on its head. Will the Chinese proverb to "eat bitter," which has been passed down for generations, be replaced? ⏳⏳
That's it for this week! Please let me know what you think of today's issue (thumbs are below)! If you're feeling moved, send this issue to a friend and encourage them to sign up.
Also, let's welcome our 10 new subscribers: Lauren, Adam, Antonia, Elisa, Monique, Shipley, Sehreenna, Mary, Steve, and Kim. Welcome to The Highlighter community, and I hope you find that the newsletter makes your Thursdays a little bit better. Have a great week, and I'll see you again next Thursday at 9:10 am.
Don't miss out on the other issues by Mark Isero
Become a member for $3 per month
You can manage your subscription here.
In order to unsubscribe, click here.
If you were forwarded this newsletter and you like it, you can subscribe here.
Created with Revue by Twitter.