#116: The Ghosts of the Tsunami

It's time for The Highlighter #116! Hope you've had a good week. For the most part, today's pieces are haunting and disturbing. The lead article focuses on the lasting effects of the earthquake and tsunami that devastated Japan in 2011. The second article details Wisconsin's tactics to suppress the vote. Then comes a needed photo break — Indie's second appearance (see #29). Below the fold, it's a 1-2-3 combination of Boko Haram, urban education, and narcolepsy. Please enjoy!
The Highlighter IRL: Get your tickets now for the second Highlighter Happy Hour at Room 389 in Oakland next Thursday, Nov. 2, 5:30 – 7:30 pm. Come meet the other great folks who make up this community of caring close readers. Better yet: Take the whole day off, read all the articles, and be truly prepared. Your boss won't mind!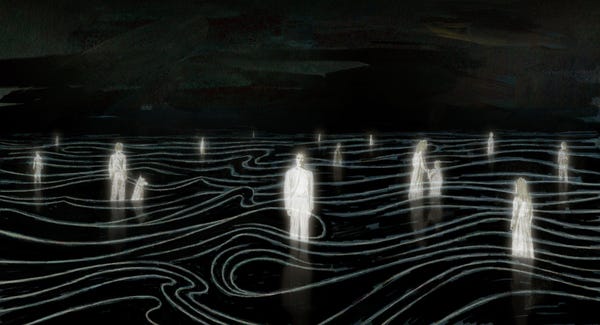 Shortly after the 2011 earthquake and tsunami in Japan that killed 16,000 people, Takeshi Ono began acting like a beast. He crawled on all fours and rolled around in the mud. In the night, Mr. Ono waved a knife at his wife and threatened to kill her. A priest at the local Zen temple told him: "Something got hold of you, perhaps the dead who cannot accept yet that they are dead. They have been trying to express their regret and their resentment through you." In the tsunami's aftermath, the relationship among the living and the dead in Japan got out of balance, and thousands of gaki, or "hungry ghosts," threatened to possess those who survived. ⏳⏳

Voter Suppression in Wisconsin
Ari Berman (#63) is back with another article about voter suppression — this time, on Wisconsin. Skip the clickbait headline and read about how the state's voting requirements — a current driver's license, passport, or state or military identification — excludes 9 percent of the electorate. Poor and African American voters are affected most. Since Shelby County v. Holder (2013) ransacked the Voting Rights Act of 1965, 22 states have passed restrictive voting laws. That trend will not reverse anytime soon. ⏳⏳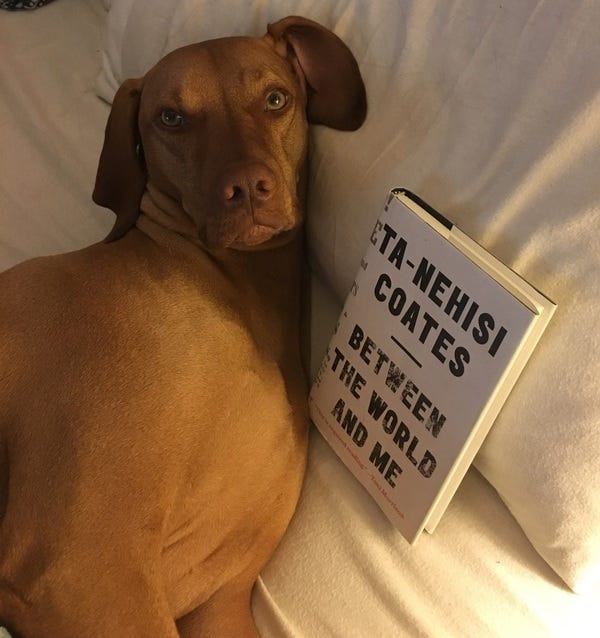 Avid reader Indie, who belongs to loyal subscribers Marni and Byron, would like to interview Ta-Nehisi Coates on The Highlighter Podcast. If you'd like to be a guest on the show, let me know! highlighter.cc/podcast

The Girls Who Survived Boko Haram
Prepare to be horrified. Sometimes, our world is a very bad place. So far this year, Boko Haram has used 110 girls in suicide attacks in northwestern Nigeria. The choice is be raped or blow yourself up. Here are the stories of 18 girls who resisted, chose a different path, and are alive today. (For more on Boko Haram, see Issue #100.) ⏳
"They Can't Just Be Average," Lifting Students Up Without Lowering The Bar
NPR's Code Switch Podcast is doing a three-part series on Ron Brown College Preparatory High School, a new school for African American boys in Washington D.C. This second episode focuses on the limitations of restorative justice and the challenges of supporting students with low skills. Also, listen carefully: There's definitely deficit-based, savior-mentality thinking going on here. ⏳⏳⏳
Why We Still Don't Understand Sleep
In high school, loyal subscriber Barbara and I wrote an article for our school newspaper about the effects of sleep deprivation. Since then, I've been fascinated with sleep and its many disorders. This article is about narcolepsy, which affects 1 in 2,500 people. Get ready for some science about sleep, including a primer on neuropeptides, orexin, and how Doberman Pinschers helped a Stanford researcher unlock the cause of narcolepsy. ⏳⏳
This Week's Podcast: If my metrics are correct, it seems like everyone is listening to this week's episode, which features my good friend Sejal Patel. A mother of three boys, Sejal talks about how she advocates for her children in school while understanding the demands that teachers face. Then, out of nowhere, we chat about white supremacists. Let me know your thoughts about the show, and if you like it, please subscribe!
Thank you for reading this week's issue of The Highlighter. As always, let me know what you thought (thumbs are below). Also, please welcome new subscribers Caitlin, Bela, Felsha, Maria, and Thea! It makes me happy that this community is growing. Have a wonderful week, and I'll see you again next Thursday at 9:10 am.
Don't miss out on the other issues by Mark Isero
Become a member for $3 per month
You can manage your subscription here.
In order to unsubscribe, click here.
If you were forwarded this newsletter and you like it, you can subscribe here.
Created with Revue by Twitter.