#111: Summer in the Heartsick Mountains

Welcome to The Highlighter #111! I think that you're going to appreciate this week's articles. The first two pieces can't possibly be more different — one focuses on fireflies, while the other focuses on patriarchal machismo. But read them together because they both explore the consequences of growing up. After a photo break, spend time marveling at the wonders of Dutch farming, then round off your reading by considering whether Advanced Placement is helping urban students of color. Please enjoy!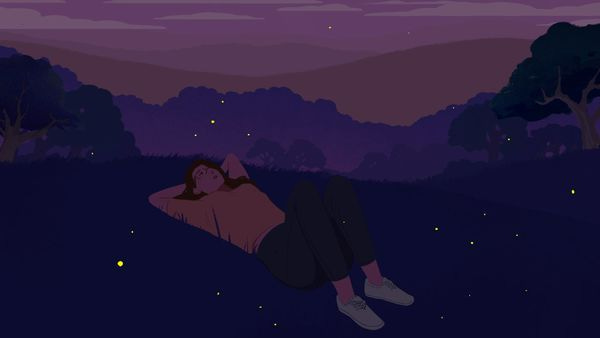 Summer in the Heartsick Mountains
Ellie Shechet returns to Gatlinburg, Tennessee, where she grew up, after last year's wildfire (#95), to find out what's happened to the Smoky Mountain Synchronous Firefly, whose population has plummeted in recent years. "You start noticing things in a different way when you know you're going to lose 'em," a firefly expert tells her. This brilliant piece is about the magic of fireflies, their association with childhood, their importance across various cultures. It's also about how humans have brought the Photinus carolinus to the brink of extinction. Mostly, though, this is a reflection on growing up and leaving your hometown — and losing as much as you have gained. (22 mins)
I Was Forced to Fight, Now I'm Learning to Cry
Black boys are not allowed to express their emotions because doing so makes them sissies. In this excellent essay, Wilbert L. Cooper recounts his journey growing up, noting that his family and community celebrated swagger and fight over emotional depth. Connecting with the writings of bell hooks and James Baldwin, Mr. Cooper admits that only recently has he moved through patriarchal machismo and toxic masculinity. His epiphany came when he visited the National Museum of African American History and Culture and approached the casket of Emmett Till. Thank you to loyal subscriber Heidi for sending me this article. (19 mins)

City Arts and Technology High School, San Francisco
This Tiny Country Feeds the World
Finland knows education; the Netherlands knows food. Only the United States, at 270 times the size, makes more food than Holland. They're the world's top exporter of potatoes and onions and a global leader in tomatoes. How do the Dutch do it? A few reasons: building tons of greenhouses, reducing the need for water, creating self-sustaining ecosystems, and being passionate about data. Farming in the Netherlands is revolutionary, and it had better be. By 2050, 10 billion people will live on Earth, which means we'll have to grow as much food over the next 40 years as in the past 8,000. Thanks go to loyal subscriber Jamie for submitting this excellent article. (23 mins)
Who Benefits From the Expansion of Advanced Placement Classes?
The year I taught AP English Literature in San Francisco, my students were wonderful. We became a strong learning community, and I pushed them hard. At the end of the year, four of my students passed the exam, out of a class of 23. The results were devastating to me. But this article by Alina Tugend explains why my students' results were not outside the norm. Urban schools, in order to offer greater access to challenging curriculum, have expanded their Advanced Placement programs. But there has been less emphasis in supporting students to bridge longstanding skill gaps. Meanwhile, the College Board does very little except collect millions of dollars. (22 mins)
This Week's Podcast: If you haven't yet checked out the podcast, this week's episode is the one to try, especially if you care about American history. Loyal subscriber Clare Green interviews Columbia history professor Eric Foner about Confederate monuments, the teaching of history, and historiography. It's a great conversation! The Highlighter Podcast comes out on Sunday night and is meant to supercharge your Monday commute. Tell your friends and subscribe on iTunes! On the show this week is Anthony Johnston, professor of education at the University of Saint Joseph. 
Thank you for reading Issue #111 of The Highlighter! Please let me know what you thought (thumbs are below). Please welcome new subscribers Linda, Gerry, and Amanda. Let's keep growing The Highlighter community and making it even stronger. Have a wonderful week, and I'll see you again next Thursday at 9:10 am.
Don't miss out on the other issues by Mark Isero
Become a member for $3 per month
You can manage your subscription here.
In order to unsubscribe, click here.
If you were forwarded this newsletter and you like it, you can subscribe here.
Created with Revue by Twitter.